by Ben Daniels (Admin) on Aug.01, 2013, under NextDoorBuddies
It was a hot, pleasant summer day. Tyler Torro and his buddy Dominic Reed are chilling outside and Tyler takes the opportunity to show Dominic some lifting techniques that gave him the best gains in the gym.
Dominic can't control his dick from getting hard while watching Tyler Torro's perfectly muscled body, and his boner kinda gives him away. It's funny how guys are always horned up – one minute you're talking to your buddy about various shit and the next minute you're thinking about getting that big cock of his in your ass.
Dominic wants to give Tyler a little massage for his back and legs, and so he removes Tyler's shorts. He oils up Tyler's skin and damn, it looks even more hot than before now. Tyler is not made of stone, and as soon as he turned around Dominic could see a raging hardon on Tyler as well.
The only wise thing to do when your buddy has a boner is to kneel down and start sucking it. That's what friends are for, after all – to give a helping hand, or mouth. While Dominic is sucking on Tyler's hard meat, there's only one idea lurking in the deep recesses of Tyler's mind – to bend over Dominic and fuck the shit out of him.
Tyler Torro is an aggressive fucker and he nailed Dominic's ass very hard and stretched his hole to a new level.
Preview videos:
Click here to download their entire video in perfect HD quality from Next Door Male.
Next Door Male is a porn site that features young masculine and usually straight or bisexual men who have that typical "next door guy look". If you like your men natural, buffed up, hung and manly then this is the site for ya!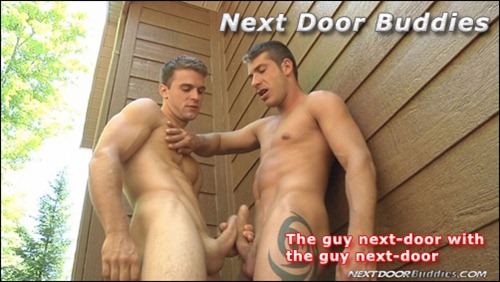 :anal, beard, big dick, Big feet, bisexual guys, blowjob, Dominic Reed, muscled, nature, Oral, Outdoor, outside, tattoos, Tyler Torro