by Ben Daniels (Admin) on Dec.16, 2014, under NextDoorBuddies
It hasn't been easy for Colt Rivers to get used to his new job. Lots of new obligations and deadlines that need to be met can take a great toll on his nervous life. Colt has been staying late in the evening at his work in order to finish some reports that he needs to prepare, and suddenly his manager Andrew Fitch barges into the office.
Andrew can tell that Colt is having a hard time at his new job position and wants to help. Andrew wants to reassure Colt that he and the other guys in the firm are always there to help him and that he can rely on them whenever he feels the need. Colt is not exactly certain what all that was supposed to mean, so Andrew clarifies things by whipping out his semi-hard cock out of his pants! Colt likes this kind of friendly support from his colleague and promptly swallows his colleague's dick, which soon enough grows to its full size filling Colt's mouth and throat completely.
At about that time janitor Mark passes by and sees what's happening inside the office. Andrew tells Mark that he should come and join in the party. Mark is wearing a cover-all and as soon as he whipped out his cock it surprised everyone present by its sheer magnificent size! Colt is happy to satisfy both men who attack both his holes – mouth and ass. It seems that this is the kind of training that Colt badly needed all the time and he's grateful to his colleagues for making the effort and taking the time to show him the ropes. Mark is now fucking Colt's ass while Andrew stuffs Colt's mouth and throat with his large cock.
Next, Colt sits on Andrew's cock and starts riding it. Meanwhile, Mark is watching the whole thing. Andrew increases the pace and fucks Colt real hard now, which was more than enough for Colt to spill his seed while being relentlessly pounded. Now both colleagues, Mark and Andrew shoot their loads all over their brand new colleague making a complete mess.
Unconvincing acting notwithstanding, the guys are super hot and the action was good and passionate.
Preview video:


Click here to download their entire video in perfect HD quality from Next Door Buddies.
Next Door Buddies is a porn site that features the typical "guy next door" types of men having some hot man on man sex with each other. These guys are usually either really straight or straight looking, although there are of course hot gay guys as well. The stories are a bit cliché but the quality of production is pretty high and the men are usually really good.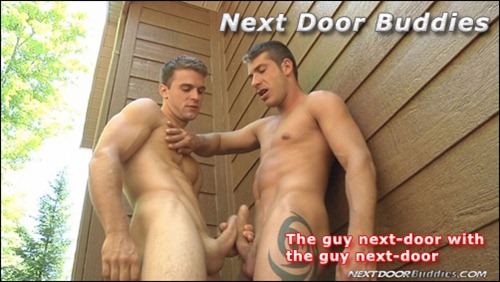 :3-way, Andrew Fitch, at work, big cock, blowjob, Colt Rivers, handsome, hardcore fucking, Mark Long