by Ben Daniels (Admin) on Aug.09, 2013, under HardBritLads
Harry Lawson is a very sexy, muscled man and he's got a nice big stiff uncut cock. He is a very manly dude and likes to show off his body.
Like I said, we first enjoyed a little interview in the beginning, then he removed his undies and started to show off his perfect body. He puts on some lube on his cock to enable easier jacking off. Then he proceeded to jerk off assuming various positions.
Harry has pretty awesome chest, his whole frame looks beefy and strong. When you are with Harry you know you are in the presence of a manly man. His shoulders are quite broad and his arms are very strong. The same goes for his legs, which are also pretty muscular. I really liked his choice of socks (white, athletic socks) that give him that unmistakable jock-like look. Harry starts playing with his cock while it's in the shorts and it immediately begins to grow.
After some time he removes his shorts and he's now wearing only his socks and undies. His cock can be seen through the undies, and it's obviously hard as steel. Harry starts to stroke his fuck stick, giving us a good view of it from all sides. He put on some silicone lube so he could jerk off more easily. He intentionally exposes his cockhead, shaft and balls for us to appreciate them.
Harry's cock definitely throbs when it is fully excited, and you can clearly see this in the video. He continues to stroke it, pulling his foreskin up and down over his shaft. He strokes his dick quite slowly now, and squeezes the cockhead occasionally. He also plays with his nipples and squeezes them hard from time to time. I had a strong impression that he actually gets sexually aroused from his own body, even though he is totally straight – but hey, that's perfectly normal.
Now he increases the pace and jerks off faster. Then he stands up and returns to slow jacking off again. I really like those "frog-perspective" shots, where we can clearly see his cock and body from below in their full glory. His cock is always hard as steel and points upwards to the ceiling.
Now he caresses his whole body with his hands: he goes slowly with his hands over his chest, six pack abs, legs and finally his engorged cock which is relentless in its throbbing and there appears a drop of precum on the tip of the cockhead as well. It definitely looks as if he's edging himself, being constantly at the verge of cumming. Harry is pretty skilled at maintaining this state of maximum arousal for a long time.
Finally, Harry starts to jerk off faster and makes a horny face expression while he's doing that. Gotta love it! Suddenly his whole body tenses and in the next few moments we see several big squirts of his hot seed shooting from his cockhead and hitting his chest and six pack.
Preview video:


Click here to watch his entire video in perfect HD quality at Hard Brit Lads!
Hard Brit Lads is a relatively new porn site that features only the most masculine and well-built straight and bisexual guys showing off and fucking the shit out of each other. The videos are well-made and shot in HD. Don't miss out lots of amazing, manly men!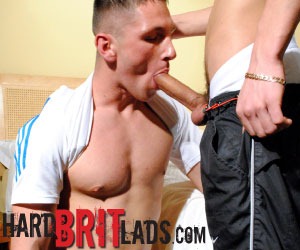 :beefy, big cock, big cumshot, blue eyes, handsome, Harry Lawson, jerking off, masculine, muscles, personal trainer, uncut cock, white socks