by Ben Daniels (Admin) on Aug.09, 2013, under Bentley Race
Once in a blue moon a super hot muscular stud that looks exceptionally hot and just about perfect  shows up on my door asking to shoot some porn. This was the case with Hungarian stud Jeffry Branson, one of the hottest finds I've made this year. Jeffry is a straight guy, but he decided to put his good looks into use and started to shoot porn for Colt Studios. There he played the part of a waiter who gets seduced by other hot guys while he's working in his restaurant. He also does some modeling as a part time job.
Being a total fan of Jeffry and his performances that he did for the Colt Studios, you can imagine how happy I was to meet him in Budapest. We had some emails going to and fro and we basically agreed to meet each other while I was on my vacation in Budapest.
Jeffry looked at my site and said he was very interested in working for me. Anyways, damn – he looks even more handsome and cuter in real life than in the movies. I hope I managed to capture his sexy smile and god-like masculine body well, though. I really wanted to transfer his manliness and hot energy into these photos. It turned out that I was more nervous than him about our meeting. However, I am not easily confused, and I immediately started to take photos of this superhot straight hunk.
Funny thing, I really like Aussiebum undies and long white socks, and it turned out that he wears them both almost always. Talk about common taste in clothes.
Jeffry begins to show off and flex his muscles for me. I wonder how many hours of hard work it took him to build such a fantastic body. All this showing off made his dick hard even before he whipped it out. I took my video camera to be able to catch him playing with a fleshlight a bit better than with the camera. He is a bad, bad boy and starts to tease me while I'm shooting his video. His skill with the fleshlight is awesome, I am probably not overexaggerating when I say that this was the best fleshlight video that I've ever made. After some time he shoots his load all over his six pack.
I've also included the next set with him, when he is in the shower. No need to explain the details, just kick back and enjoy the sight!
Jeffry in the shower:
Click here to watch his entire videos in HD quality at BentleyRace!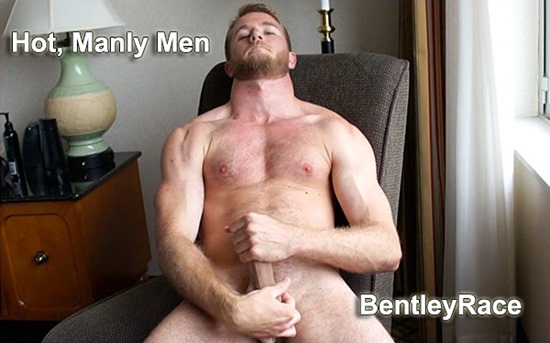 :Baseball cap, beard, fleshlight, handsome, huge cock, Hungarian stud, jerking off, muscled, shower scene, straight guys, stud