by Ben Daniels (Admin) on Nov.30, 2013, under BreederFuckers
Daniel is a rough and tough rugby player who likes to dominate both men are women. It is not surprising for this proud straight guy to see his straight team mates making passes at him. He enjoys in watching them allude at sexual things, albeit in a roundabout manner, and then refusing every one of them. What a conceited and arrogant bully! But today is not his lucky day. A few of his new mates that he didn't quite get to know well proposed that he be tied up so they can demonstrate what he deserves to get. Daniel thought it was just a joke and good fun, but it wasn't!
Well, well, things have really gotten out of control, it seems! Not only is he completely tied up, he is also gagged and can't even yell no matter how much he'd like to do that now. The pervy players are now free to inflict well-deserved punishment for this arrogant beefy straight motherfucker. His clothes are removed, and he is systematically flogged and his genitals get groped and touched in all possible ways.
His hairy ass isn't left alone, either. The pervy mates trash it and then put their fingers and various vibrators up his tight virgin ass to stretch it beyond its previous measure. His nipples are given a special treatment with two extremely painful clips. His cock and balls are also tied up. Daniel has an uncut cock with a beautiful foreskin which is now being ruthlessly yanked back to expose his entire cockhead. An electric magic wand is also applied close to his genitals and the big rugby player is unable to do anything about it.  He is overcome with sweat, pain and shame. I am sure this bad boy will think twice before being such an arrogant prick again.
Preview video:


Check out the newest videos with arrogant straight men being turned into obedient cocksuckers at Breeder Fuckers!
If you prefer your porn to be on the kinkier side, you should definitely check out Breeder Fuckers (formerly known as Straight Hell). Breeder Fuckers is a premium fetish site devoted to hot straight guys being tormented, humiliated and treated without mercy by big, mean & aggressive studs!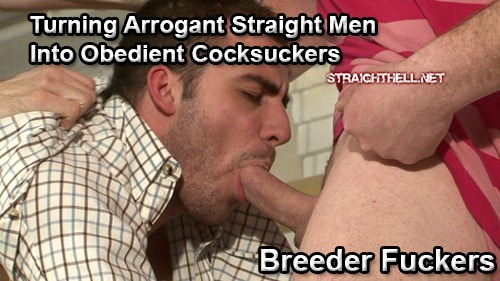 :beefy, flogged, groping balls, humiliation, masculine, rugby player, straight men, tied up, Vibrator