by Ben Daniels (Admin) on Nov.07, 2013, under New York Straight Men
Rocky is a hot and extra hung New Yorker, or to be more precise, he lives in the Bronx. I don't know if it is because he's of Italian descent… I mean do all Italian men look this macho and have big, fat dicks or just some of them? Anyway, the first thing that I noticed about this hot straight man is that he has one of the thickest cocks I've seen lately. it's also very nice length-wise so, especially for lovers of hung straight men this manly blue collar worker is a dream cum true!
He says that he has a girlfriend, and, unsurprisingly, he didn't tell her the exact truth when he told her he would be going to a bar tonight. Actually, our hot, big-dicked straight man adores blowjobs! Unfortunately, his girl really sucks at sucking cock, so Rocky has to turn to men for that kind of job because we are much more into sucking cock than ladies it seems… you know, its not a job for us, although we call it jokingly "a blowjob". It's something like a sacred opportunity enjoy another man's most masculine part and worship it. Not trying to say there aren't any dedicated and excellent female cocksuckers, just so you know. Anyway, I digress…
Our hot straight guy is in desperate need for more blowjobs, and he got hard as rock as soon as Sean opened his mouth. You'd think that Sean would get all sorts of problems with such a gigantic cock, but he swallowed it pretty quickly and almost balls deep! Once more Sean proved to be be a professional cocksucker par excellence.
While Sean was devouring Rocky's massive tool it dawned upon me that he is in the same neighborhood as Tony (our old friend, Italian Pizzeria man)! Actually, we have some inside information that Rocky worked in Tony's pizzeria for some time several years ago.. so the two men probably know each other very well… That gives rise to all kinds of interesting opportunities such as calling the two of them for some mutual jerkoff session?
Anyway, Sean is working diligently on Rocky's upright cock and I can tell that Rocky is not too far away from shooting his load. Rocky cannot hold it for much longer and he shoots a nice big load all over himself and Sean. Sean was a very happy cocksucker and proud of his work today.
Preview video:
Click here to watch their entire video in HD quality at New York Straight Men!
New York Straight Men is the world's biggest collection of straight men getting their blowjobs from gay dudes! These men are usually truly straight but they love getting head from a gay guy because it feels so much better than whatever their girlfriends can do. These men are not the Hollywood type cuties, they are Real Men!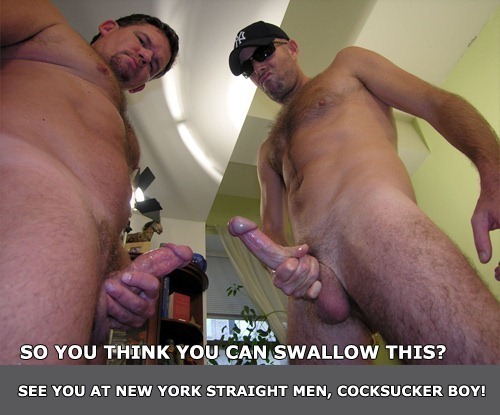 :blowjob, fat dick, huge cock, Italian stud, masculine, Rocky, Sean, Serviced, straight men