Kevin is 33 year old dude and lives in the north Bronx. He works as a mechanic. He is a pretty tall dude, measuring 6'3" (190 cm)! I love tall guys.
Kevin has a lean, studly body, sandy blond hair and magic blue eyes. He is of Irish and Italian descent. Believe it or not, Kevin loves cars almost as much as blowjobs! Actually this is quite typical of straight guys, most of them love cars more than anything else.
Kevin is married and his wife loves to suck him off, however he loves to get blown by a dude from time to time because the feeling is "different". The only condition is that the cocksucker must not ask to have his own cock sucked because that just ain't gonna happen. Kevin actually told us a story of a guy who came to his garage just to blow his dick from time to time, and Kevin didn't mind! Gotta love these open-minded straight guys.
Kevin came over to our place one summer night after having worked the whole day in the garage. He was still soiled with the dirt and oil, but our cocksucker Trey didn't mind that one bit. Trey just took out Kevin's cock and boy, it really matches Kevin's stature. I mean it's as big as the guy is tall!
Trey delivered a nice, wet and passionate blowjob and sent Kevin to the seventh Heaven. Kevin actually had a rather big load in his balls because he hadn't emptied his balls for several days. When he shot his wad, he splattered his copious cum all over the place!
Preview video: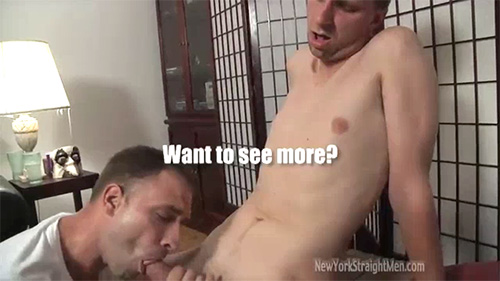 Click here to watch his entire video in perfect HD quality at New York Straight Men!
New York Straight Men is the world's biggest collection of straight men getting their blowjobs from gay dudes! These men are usually truly straight but they love getting head from a gay guy because it feels so much better than whatever their girlfriends can do. These men are not the Hollywood type cuties, they are Real Men!