by Ben Daniels (Admin) on Apr.06, 2014, under CMNM
Alistair has only recently been accepted in this company after he had been seeking a new job for quite some time. So, obviously, he's eager to please his superiors and wants to keep his job at all costs.
However, as it turns out, his superiors (the headmaster and governor) are more pervy than anyone could have imagined, and they order Alistair to get naked in the workout room so they can inspect his ass and cock. The governor and the headmaster make it abundantly clear to their new employee that his ass will have to be at their disposal at all times, so that these masculine men can have their pleasure whenever they wish to indulge in it.
Alistair is an active athlete who plays many sports, so his body is in top shape. Little wonder, then, that as soon as his ass was penetrated by these males' fingers and his cock grabbed by their big masculine hands that he developed a raging boner. Even on the playing field the sportsmen can sometimes get spontaneous erections, but here in this situation it's even easier. Poor Alistair can only obey the orders from his new bosses and let them inspect his ass with their fingers as they please. I think another milking is in order.
Preview video:


Check out these pervy men's wanton adventures in their whole videos in HD quality at CMNM.
Clothed Male / Naked Male (CMNM) is a superhot porn site where Nervous straight guys get stripped naked, groped and violated by fully clothed men.
There's nothing better than stripping straight lads completely nude, putting their bodies on display, and teaching them exactly how to submit! When they are in such a submissive position, one would be crazy not to use the opportunity and jerk them off!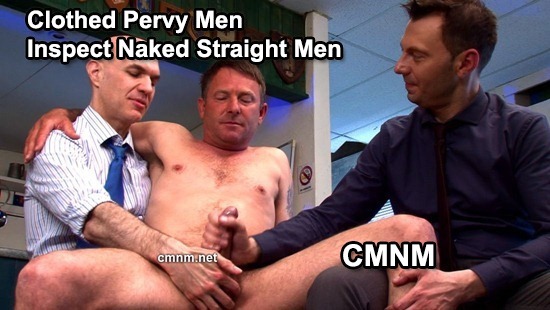 :Alistair, boner, Fingering Ass, groping cock, inspected, mature guys, pervy men, sportsman