by Ben Daniels (Admin) on Sep.26, 2016, under CMNM
We continue our story about the pervy Headmaster (you can read the first part here). The word is getting around about the pervy Headmaster pretty fast. The lads even made up a nickname for him, they nudge each other about Groper Swallows and his wandering hands have become legendary.
However, since his authority cannot be disputed, and he wields the greatest power in this facility, nobody dares to tell him anything. The Pervy Headmaster and his assistant Mr Walker reckon that new Russian student Dobrovski has broken the rules because of his inappropriate tattoos. Pervy Headmaster makes it abundantly clear to Dobrovski that things like that are no-go and that his peace of mind gets disturbed when he sees something like that. The least that Dobrovski can do is to let the Pervy Headmaster inspect his hot muscular Russian body from head to toe and, hopefully, the Headmaster will decide that this deserves only a minor penalty. Unfortunately, Dobrovski's cock gets spontaneously aroused and he must now endure the humiliation of being rock hard in front of the Headmaster himself. More about that in the next installment.
Check out these pervy men's wanton adventures in their whole videos in HD quality at CMNM.
Clothed Male / Naked Male (CMNM) is a hot porn site where Nervous straight guys get stripped naked, groped and violated by fully clothed men.
There's nothing better than stripping straight lads completely nude, putting their bodies on display, and teaching them exactly how to submit! When they are in such a submissive position, one would be crazy not to use the opportunity and jerk them off.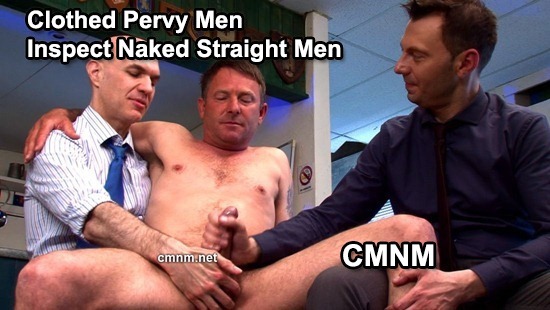 :Clothed Men, Dobrovski, Groper Swallows, inspecting penis, Jocks, locker room, muscled, naked men, pervy headmaster, urinating