by Ben Daniels (Admin) on May.04, 2014, under Chaosmen
Braxton has come a long way for a straight boy. He has experimented with many things and he continues to conquer new territories. When he saw Vander (and Vander's wondrous huge tool) Braxton thought to himself "I must see if I can swallow that". Braxton told me about his little new idea and I said sure, but you'd better do some jaw-stretching exercises first!
It's always great fun to work with Vander and the guys usually don't realize how big his cock actually is until they come and see it with their own eyes.
Braxton is a very caring lover who knows how to satisfy his partner. He kisses Vander and takes his cock with his hand to give it a good stroke. Vander enjoys in getting his huge member serviced by this straight boy. Braxton is obviously a novice in the art of cocksucking but he has real talent and learns pretty fast.
Vander then returns the favor, and then proceeds to rim Braxton. Vander hovers above Braxton's yummy ass with his giant monster cock, but sadly, Braxton was adamant about not going there. Well, some next time, perhaps?
Braxton is after all a born top and he does a really good job while he's at it. He can fuck so well that Vander never lost his erection even for a minute. Braxton even strokes his partner's cock from time to time to make sure he's hard.
It's noteworthy that Vander is now attending a school and he can't make porn movies on just any day. We have to work with him on holidays only, and this was his second day in a row to film a porno with us. I think he was really into Braxton and, we might even say, he had a crush on him.
Although Vander's ass got totally demolished for a few hours in a wild fuck scene the day before, Braxton managed to fuck the cum out of him pretty easily – and it was a very nice, copious cumshot at that!
Soon enough Braxton soon follows suit and shoots his load onto Vander's hole, then sticks his cock again into Vander's ass and we can see how Braxton's cock twitches while still shooting the jizz and pumping it deep into Vander's ass.
Preview video:
Click here to watch their entire bareback video in HD quality at Chaosmen!
Chaosmen is a great porn site that features hot straight and bi men getting serviced or fucking their mates bareback for some cash. This site is exceptional and very unique because almost every single fucking is bareback and ends with a gorgeous internal cumshot or creampie.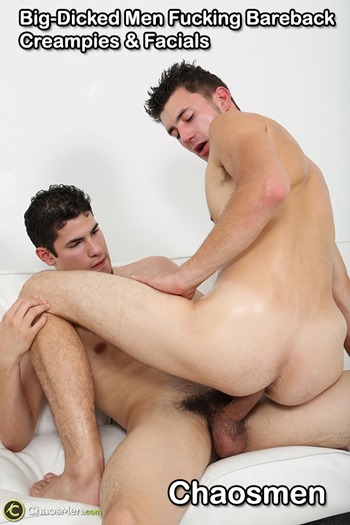 :bareback fucking, blowjob, Braxton, Breeding, hairy chest, huge cock, internal cumshot, rimming, straight men, vander