by Ben Daniels (Admin) on Jun.07, 2014, under CFNM
Jaime is a fitness trainer and over many years of hard work he managed to sculpt his body to perfection. No wonder he's pretty proud of it and shows it off to hot sexy ladies whenever opportunity presents itself. He thinks he's superior to most other men, and often brags about himself a bit too much. Like today, for instance, in this busy nightclub, Jaime thinks that all the women are looking at him and want a piece of his muscled body. And he's quite vocal when he's talking about himself in superlatives.
But, he's not aware of the fact that all this tasteless bragging gets on other men's nerves. They decide to put this showy gym rat to the test and see if he's really that strong as he has made it out to be. Two strong men from the club grab Jaime and forcefully remove all his clothes, then push him onto the floor. The ladies who listened to Jaime's bragging only minutes ago are shocked to find him now lying on the floor completely naked and helpless. Whatever happened to his all-powerful masculinity? Why didn't he manage to defend himself… questions, questions…  It seems that the ladies will now perform their own set of tests on Jaime, to see just how much of this man's story is actually true.
Click here to watch their whole video in HD quality at CFNM (Clothed Female/Nude Male)!
Clothed Female Naked Male (CFNM) is a very hot site for lovers of truly straight guys. It's a little tongue in cheek but the men are fuckingly hot!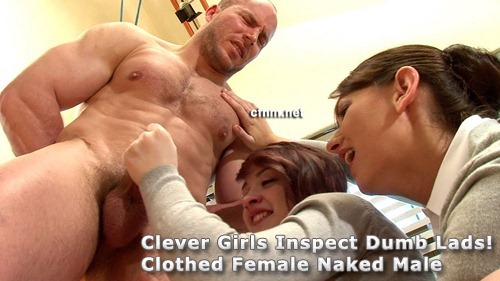 :hairy chest, humiliation, Jaime, masculine, night club, showing off, stripped of clothes