by Ben Daniels (Admin) on Mar.14, 2018, under CFNM
We've already seen the first part of this photostory in which the younger brother Hasip gets inspected by several sexy ladies and is promised a prominent place in their highly sought-after magazine for women. Little does he know that these ladies like to dominate their male models and show them in a different light than what those male models would usually like or give consent to.
Meanwhile, Hasip's older brother Ikraam is much more confident than his younger brother and in the beginning he totally digs the sexy ladies around him admiring his hot muscular beefy body. It's almost every straight guy's secret dirty dream: to be surrounded by many hot women who admire your body and want to have sex with you. The ladies use the age-old trick: by overly flattering his good looks and playing on his vanity, the ladies have got him by his balls and he's unable to resist them.
As the ladies introduce more of their dirty tricks and weird gadgets (such as that weird dog collar – what the hell is that for?), Ikraam starts to feel slightly intimidated by the whole thing, but still takes it all in good humor and keeps smiling.
The ladies take advantage of Ikraam's naivete and soon enough he stands there completely naked in front of all those ladies. When one of the ladies starts penetrating his virgin straight ass with a dildo, Ikraam realizes that things have gotten out of control, but it's too late – the ladies already have his naked pics in all the compromising positions!
Click here to watch their whole video in HD quality at CFNM (Clothed Female/Nude Male)!
Clothed Female Naked Male (CFNM) is a very hot site for lovers of truly straight guys. It definitely has "a tongue in cheek" quality to itself, and both the men and women are really hot!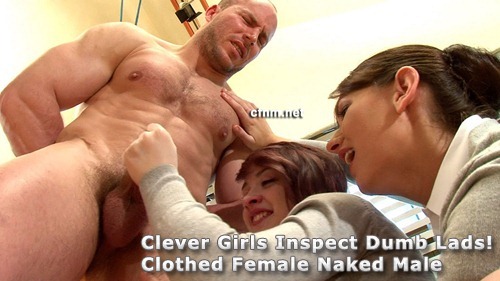 :beard, beefy, clothed female, fashion model, hairy chest, handsome, Ikraam, muscled, naked men, pervy ladies, photostory, posing naked, straight men