by Ben Daniels (Admin) on Apr.10, 2019, under Military Classified
Silas is a brand new guy at MilitaryClassified. Silas hails from Florida and he spent a 4-year stint in California at Camp Pendleton. He has been out of the military for a few years now and today when he arrived at Rob's place he had a chance to relive his days in the military. Rob's masterful blowjob certainly brought back all those horny restless nights in the barracks, but Silas was surprised how Rob easily managed to get him off only with his mouth! Silas was actually convinced he wouldn't be able to cum just from a blowjob, especially if the cocksucker is a guy, but Rob proved him wrong! Not only did he cum, he was totally blown away, as we shall see in a moment.
Silas currently lives and works in Laguna Beach and he's happy that he has the chance to work at such a beautiful place. Silas spent a few days with Rob and they made several movies together. Silas is a very humble guy and he never brags about the size of his cock, which is above average both in terms of length and girth. Of course, Rob couldn't help but notice what a beauty Silas was hiding between his legs and he wasted no time to devote himself to pleasuring and servicing this young straight man's hard 8,5-inch cock.
Even Silas' balls are pretty big, and Rob devoted due attention to licking them as well. You can easily tell that Silas wasn't really expecting what Rob had in store for him. He was glued to the screen where some porn flick played, but he couldn't stop checking out – in total amazement – what Rob was doing to his cock, as well. Peripheral vision and all that. Good that you learn about those things in the military, it can pay off later when you come to get a professional blowjob!
So Silas has come a long way, literally in minutes, from someone who was doubtful he could come from just a blowjob, to someone who was totally blown away by the blowjob and cummed big. His face expressions and reactions are a joy to watch!
Preview video:
Click here to watch or download his entire video in HD quality from Military Classified!
Military Classified is a well-known straight guy site that features lots of military men (marines, navy men, Air Force servicemen and an occasional civilian guy as well). At the moment of writing this mini-review there were more than 420 videos of various guys in the content area of the site! Of course, the guys are always horny and eager to bust a nut. While for some the primary motivation is money, there are also many guys that are curious to see for themselves if it's really true that men suck cock better.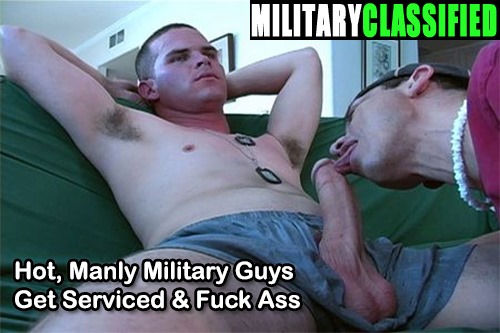 :blowjob, cum eating, ex-marine, first gay blowjob, fit body, handsome, military uniform, muscled, Rob, Silas, straight men, sucking off