by Ben Daniels (Admin) on Jun.04, 2014, under Chaosmen
My first impression about Palmer was, as it turns out, typical – I thought he is a marine or military, or something like that. But actually this straight dude is an ordinary civilian, he is very intelligent, and likes to be in the company of interesting people. I found it extremely easy to chat with him just about anything and he certainly has a specific, decidedly masculine aura of confidence. He just knows exactly what he wants and he's going to achieve it, no matter what. I like that. But although he may appear rough at first sight due to his awesome ripped looks, he's actually a very kind person. Whoa, it's a real rarity, such qualities are seldom found in one person these days.
Unsurprisingly, Palmer likes to work out a lot, and he's actually become a professional personal trainer. He spends at least two hours, at least six days a week in the gym. He's always happy to be of service to other guys and girls who train in the gym where he works and he loves showing them the ropes. Palmer emphasizes the importance of proper nutrition, because if one eats potato chips all the time, there's little chance he'll be able to have such a great body like Palmer's, no matter how much he trains.
Palmer told us that he has a girlfriend, and he's pretty satisfied with her, so there are no plans to make any changes in that department. She was quite delighted with the idea of his boyfriend coming to make a porn video for a gay site, and she told him that he had her blessings.
Palmer likes to shave off all his body hair, which we don't really encourage our men to do (we think body hair is sexy), and since we made contact with Palmer only a few days ago, there wasn't much time for his pubes to grow enough to be visible. We told him that he should stop shaving his armpits, too. Why the guys shave off their body hair is beyond, me. I certainly hope it is just a passing fashion and that after this shaving craze men will return to their original, hairy looks. I mean, even if a guy's armpits smell of his sweat, it's still far sexier than some bland cologne or fake chemical smell. But, I digress – and none of this applies to our handsome personal trainer Palmer! Except, of course, that he should stop shaving his body hair, heheh.
His solo jerkoff scene was totally awesome! He comes across as very confident, but not too braggy. He's the type of man who knows what he wants and that's his trademark. He showed us his very muscled chest, back and gorgeous arms. Then he proceeded to show us his rather big, stiff cock and jacked it off pretty passionately until he shot a nice, messy, big splooge all over his six pack abs.
He already promised he'd be coming again next week for a massage video, and I, for one, can't wait for it. He also said he would like to fuck some of our guys (damn! did you see it coming?) and I'm looking forward to that even more.
Preview video:


Click here to watch his entire jerkoff video in HD quality at Chaosmen!
Chaosmen is a great porn site that features hot straight and bi men getting serviced or fucking their mates bareback for some cash. This site is exceptional and very unique because almost every single fucking is bareback and ends with a gorgeous internal cumshot or creampie.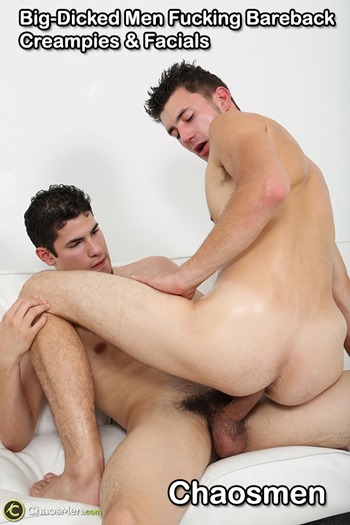 :big cock, big dick, buzz cut, cumshot, jerking off, muscled, personal trainer, ripped, shaved chest, smooth chest, straight men, tattoos, trimmed pubic hair