We've already seen Shawn Westin in his solo jerkoff session just a few days ago (check it out here), and today we're going to take a look at Shawn's first gay blowjob! Although Shawn has messed with guys both on and off the set, this was his first proper blowjob he received from another guy, and he was really in the mood to just kick back and enjoy the ride.
The cocksucker in this case is experienced Ransom. Ransom had already made several guys shoot their loads by using his mouth, and this one was a total success as well. Now with Shawn, the first thing you'll notice is that he's got a curved cock. The thing with such curved cocks is that when you suck and push down on it, it looks like it's not very hard, although it is. His cock seems to be all the way outside of body, with no foundation to lock it into place. One of the perks of this cock design is that he can easily fuck in any position, but with some sucking pressure, it looks like it goes back up into his body.
Be that as it may, Shawn's cock was totally hard throughout this blowjob session. There's also the question of his cock size. Ransom thinks it's easily over 8 inches long, especially when he pulls on it. It seems that there was definitely some chemistry between Ransom and Shawn. Ransom digs Shawn's body, eyes, attitude, his cock and even his ass – you can tell Ransom was very enthusiastic about eating Shawn's straight ass.
Also, Shawn didn't really focus on the porno film playing for him on the monitor, but instead he really enjoyed watching what Ransom was doing to his cock and ass. Shawn says that the girls he had been with knew none of those techniques! He added that none of the girls could even make him cum just by sucking his dick, and this was further incentive for Ransom to step up his efforts to make Shawn cum at all costs!
At one point Ransom really goes into the next level when jerking off Shawn's cock, while Shawn has his eyes glued onto the monitor where some pussy porn is being played. Throughout this serviced session, you can notice that Shawn is very quiet, so it took everybody by surprise when Shawn started to cum out of the blue. All in all, it took Ransom about 5 minutes to make him cum, and Shawn was really surprised at how much effort and strength Ransom put into it. He told us that the women he is with are just overly gentle, and have long fingernails that get in the way of the blowjob. Thankfully, there are strong cocksuckers like Ransom who have big strong arms that can make any guy cum!
After the blowjob was over, Ransom decided to spend some more time with Shawn and gave him a car tour of Austin. Then he took him to the airport. Perhaps Ransom wanted to persuade Shawn to move here, or at least to come back so he could see his new crush again!
Being a professional, Ransom rarely gets crushes on the guys he has sex with on camera, but Shawn is an exception to the rule. With his hot muscular body and positive, straight-vibe energy… all of these factors made Ransom forget about his principles when it comes to the guys he has sex on camera. Something tells me we're going to see these two guys again, and pretty soon!
Preview video: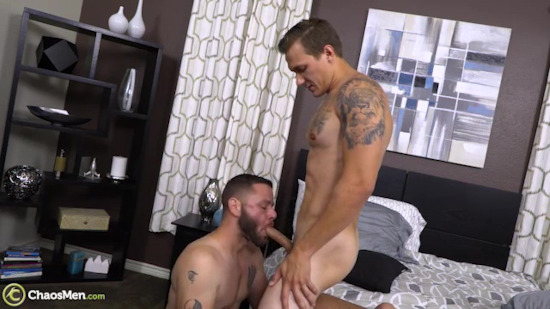 Click here to watch and download their entire video in HD quality at Chaosmen.
Chaosmen is a great porn site that features hot straight and bi men getting serviced or fucking their mates bareback for some cash. This site is exceptional and very unique because almost every single sex scene is bareback and ends with a gorgeous internal cumshot or creampie.