by Ben Daniels (Admin) on Jul.26, 2014, under Chaosmen
Sinclair is a young hot straight lad who already has a girlfriend. Their relationship has been turbulent and over the years they would break up and reunite many times. It was she whose word was final about many things in their relationship, and when Sinclair brought up the possibility of appearing on a gay porn site she was adamantly against it. However, their relationship seems to be at the end and now Sinclair is here with us! Namely, Sinclair has been considering trying his luck in porn for some time already, and his friends told him that gay porn is so much better than its straight counterpart.
You might think that Sinclair is bisexual, but that's not the case. He's just an open-minded straight fellow who likes new adventures and broadening his horizons. After the "work" has been done, he will be back to his straight man's fantasies about naked girls with big boobs. Not that there's anything wrong with it, just saying.
Since he's a newbie he had some issues with remaining hard throughout the shoot, but since he seems to be a true bottom boy he can get hard as soon as something is inserted up his ass! That's one of the weird things about some straight guys that are true bottoms in gay sex and in their private life they're of course topping their girlfriends. Many people don't understand this but it's quite common and it doesn't mean they're not straight.
One of his favorite things to do is so-called Parkour or free running. It may sound like some weird sport but it's actually more of a healthful workout regime and holistic training. It includes things such as wall climbing, obstacle courses, swinging, jumping etc. Practicing these sports has made Sinclair's body quite lean and attractive. He doesn't go to the gym, but nevertheless his body is fine and toned.
Thankfully, his domineering girlfriend's opinion is not relevant anymore so Sinclair doesn't shave his pubes anymore.
While I was considering who could be his first partner, Jonas came to my mind quite naturally. Both men have similar physiques, but behave differently. Although Jonas is not really one of those dominant, overly aggressive tops, he can certainly pound a guy's ass very well and I know for a fact that he enjoys when he shoves his dick deep into tight man's ass.
The sex itself is pretty standard for Chaosmen, there's some cocksucking in the beginning, then Jonas bends Sinclair over and fucks him bareback and breeds his ass in the end. The whole thing is quite hot and I'm sure you're going to find some scenes that you'd like to see over and over again.
Preview video:


Click here to watch their entire bareback video in HD quality at Chaosmen!
Chaosmen is a great porn site that features hot straight and bi men getting serviced or fucking their mates bareback for some cash. This site is exceptional and very unique because almost every single fucking is bareback and ends with a gorgeous internal cumshot or creampie.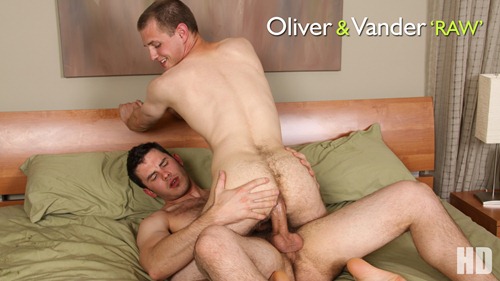 :bareback fucking, big dick, creampie, first time gay sex, Jonas, muscled, rimming, Sinclair, straight men, young stud