by Ben Daniels (Admin) on May.13, 2015, under All American Heroes
If there is something that Lieutenant Zach loves in life it has to be physicality, the ability to do things with his own muscles and strength. He's certainly a man of action, and it's not hard to conclude that it was exactly this characteristic that influenced him the most to join the Army. He tells us about his encounters with other horny soldiers who offered to "relieve the sexual tension" and there was also a full-blown orgy in the boot camp. Who would have thought? So by now you probably get the picture: Zach is most certainly not among those shy, indecisive types. On the contrary, he enjoys showing off his gorgeous muscular body and he obviously gets the kicks out of it.
Unsurprisingly, this hot motherfucker has a pretty high sex drive and he was really eager to show us how he does it. He massages his nice big weapon through his military pants, and within seconds you can clearly see the shape of it through the fabric. Soon enough we are treated to the full disclosure when he whips it out: beautiful, thick and very hard cock right there before us. His balls are pretty big, too, their size suggesting a large amount of warm jizz brewing in them. He takes off his shirt and lets us feast our eyes on his perfectly built chest, abs and arms.
He gets down to work and starts working on his cock while looking semi-innocently with his big puppy-dog eyes into the camera. After having stroked his cock for a while, he focuses on the cockhead and starts edging himself because he was already very close to the point of no return. He then changes the position and lets us take a better look at his nice ass, which allows for a great view of his big balls as well.
As he's getting close to cumming, his toes are curling and when he bits his lips you know that the big moment has come: the next stroke initiates a big explosion that sends several squirts of jizz far away. One of the squirts even went all over his shoulder and hit the sofa. Many thanks for cumming Lieutenant Zach, and please do cum over again soon!
Preview video:
Click here to watch their entire videos in HD quality at All American Heroes!
All American Heroes is a very cool military site with all kinds of uniformed men (firefighters, military men, lifeguards etc.). It's an unmatched and unavoidable destination for all lovers of hunky, hot uniformed guys who like to blow their loads and fool around with their buddies.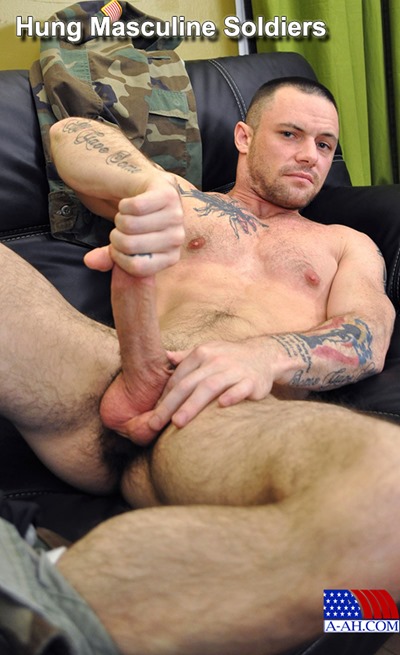 :beard, big cock, big cumhsot, jerking off, Lieutenant Zach, military men, muscles, ripped, straight men, trackies, young stud