by Ben Daniels (Admin) on Jul.22, 2014, under Str8boyzseduced
C.J. is a very hot young straight marine who sometimes drops by Vinnie Russo's place to get an expert blowjob and earn some quick cash. Today he had no time to go back to his home and change clothes so he came in his marine uniform. C.J. looks like a piece of chocolate, all cute and sexy, just totally yummy in every respect. Vinnie could hardly wait to get a hold of his cock.
Vinnie carefully unzips his military pants, takes out his cock and begins to suck it. While Vinnie is absorbed and spellbound by C.J.'s dick in his mouth, C.J. chills and smokes a cig while some movie is playing on the TV. Vinnie really enjoys slowly devouring and slobbering all over this hard military cock, and he does it with great skill and gusto. Little by little our military stud gets brought to the point of no return and he shoots his load which Vinnie promptly devours.
As a curiosity, here is an older recording with CJ when he was several years younger, still looking and behaving much like a big kid. He wears his fatigues and black combat boots. All of his videos are great, but that first one was special for me and I remember it fondly.
Preview video:


Click here to download their entire blowjob video at Str8BoyzSeduced!
STR8BOYZSEDUCED is a great amateur site that features real straight guys taken from the streets! These guys agree to have their cock professionally serviced by hot stud Vinnie Russo and in return they get paid. So it's a win-win situation for everyone!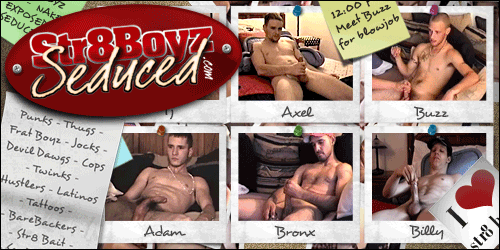 :amateur guys, big dick, blowjob, C.J., cum eating, facial cumshot, marine, military men, military uniform, Serviced, stud, vinnie russo