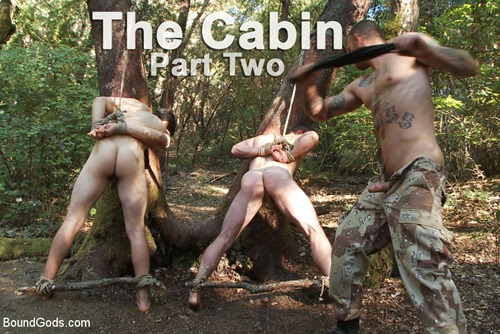 Tyler Alexander and his father's best friend Morgan Black decide to go to the woods on foot.  It's a long way uphill to the cabin and the two men are totally oblivious of the fact that madman Ricky Sinz is following them.
Tyler made a critical error when he went to take a piss. Ricky thought it was a perfect chance for him to attack. He manages to tie up both guys and puts each of them on a stake on top of the ridge.
Tyler is forced to suck Ricky's cock and Morgan is forced to watch this whole scene. Ricky is still not satisfied with the amount of humiliation and pain he's inflicted so far on these men, so he drags them to a tree in the shade. He takes out his cane and starts to flog them relentlessly. Morgan can feel Tyler's pain and wants to save his buddy by redirecting Ricky's fury to himself. He tells Ricky to flog him instead of Tyler. Ricky is unmoved and starts to flog both of them with undiminished force. Their asses are covered in red stripes from intense flogging.
Ricky now forces Morgan to fuck Tyler for some time and Morgan cums all over Tyler's bare ass. There's  a saying that trips can change us, and well, this one certainly did it for Tyler and Morgan. These two men will never be the same after this.
Preview video: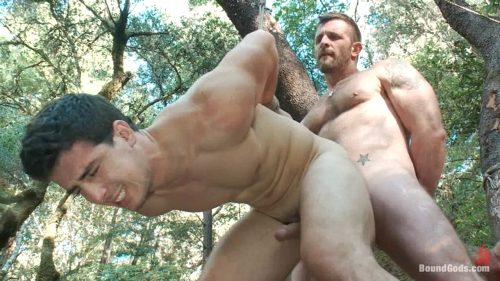 Click here to watch their entire video in HD quality at Bound Gods!
Bound Gods is one of the most famous BDSM sites on the Internet. It features hot, masculine men being tied up and tortured by dominant men. So, if you are into this somewhat more rough game of gay sex this is definitely a site worth checking out.