by Ben Daniels (Admin) on Feb.23, 2014, under SUCKoffGUYS
Meet Reid Rivers – a hot straight army guy who was very eager to get blown by a guy for the first time in his life. We were quite surprised when Reid brought one of his army buddies with him, so that his friend could watch him while he's getting his cock sucked. It seems straight guys often find gay blowjobs interesting and bizarre at the same time, as if it's some kind of an otherworldly thing.
Reid thought that while his straight army buddy watches him getting his cock blown it would be a turn on, but it turned out to be quite the opposite. So we told his army friend to leave the room and that helped matters a lot.
When no friends are watching, Reid's cock gets hard pretty fast and, of course, Seth was quick to get on his knees and do what is expected from every good cocksucker. Reid told us that he abstained from cumming for several days, plus that the taste of his cum would likely have a distinct cinnamon taste, and damn, that was so true! He must have eaten something flavored with the spice to make his cum taste so good.
After delivering some serious blowjob experience, Seth gets rewarded with a load that really tasted and smelled like cinnamon, and Seth confirmed that it tasted absolutely great!
Only a few seconds after Reid emptied his balls into Seth's eager mouth, Reid's friend appears again wearing a mischievous grin on his face.
After the two buddies left the place, Seth and Aaron found out that near the place where Reid's buddy sat there were several drops of fresh spunk on the floor. It seems his "straight" friend got turned on by all these gay blowjobs and decided to rub one out himself, hmm…
Preview video:


Click here to watch their complete video in perfect HD quality at SUCKOffGUYS!
SUCKOffGUYS is a very interesting and hot amateur gay porn site that focuses on blowjobs, cum eating, cumshots, cum play and all things cum! The site owners are obviously total cum pigs and it shows. Be sure to check them out if you're into beautiful hard cocks, blowing stiff rods and big, messy cumshots.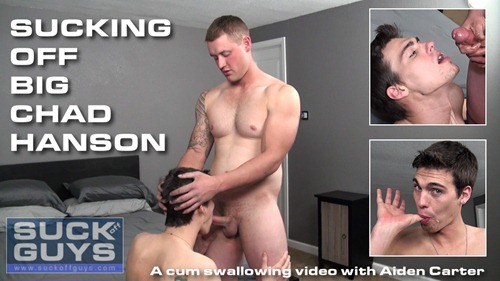 :amateur guys, beard, cum eating, cumshot, fit body, gay blowjob, military men, Reid Rivers, Seth Chase, straight men, tattoos