This time round we were lucky to bring you a very sexy and masculine straight dude Ryan Long. This is also his very first porn shoot ever, so please be nice. He is like a typical straight dude, thinking about sex all the time, and how he'd fuck that hot girl's pussy. You know the drill. It didn't even cross Ryan's mind that today he might actually fuck a dude.
With such truly straight newbies we have to proceed slowly, so I decided to pair Ryan with Sean Duran. Ryan's overflowing masculinity, his strong muscled body and his raging big dick (8,5 inches or 21 cm!) demand that he be paired with an equally strong bottom boy. And Sean is the perfect choice. Sean was here for the first time several months ago. Now we're glad to have him back. Sean is now bigger and stronger, he's really grown his muscles a lot. Sean's got magically blue eyes and hot face, his ass cheeks are yummy and his 7,5-inch cock completes the picture of a strong, manly hunk.
If you pay enough attention, you'll see that our gay boy bait Sean can't take his eyes off Ryan (and who can blame him?). Ryan admits that pretty much all the girls are falling for his bad boy, masculine look. Those bitches may say all kinds of shit, that they love tender and sensitive boys, but deep down all of them just want to be mercilessly fucked by a strong masculine stud like Ryan. And that's the real truth.
There was the usual problem when the supposed girl didn't show up, so I suggested that the boys exchange handjobs between themselves. Ryan jumps from the sofa and wants to leave, but I calm him down and assure him that there's a better option – he can have sex with Sean. Ryan is adamant and doesn't want to hear about having anything sexual with another dude. But, Sean starts giving Sean a handjob. Ryan's cock goes up and gets stiff in no time, and although Ryan was nervous and seemed he wanted to leave the scene any second, his cock told him to stay. That's right, his cock said it was OK, and so he decided to stay. Ryan kept saying "This is crazy." but he stayed nevertheless.
Sean was in straight boy's heaven while he sucked Ryan's massive dick. He was really into it and serviced our new straight boy like no girl could. After some time it seems that Ryan is starting to appreciate his cocksucker's skill and he gives us a sign that he's close to cumming.
Sean put his head on Ryan's six pack abs and opened his mouth waiting for the jizz to shoot into his mouth. Ryan shoots a huge load which ends up in Sean's mouth and Sean swallows it all. Later Sean said that Ryan's cum tasted "sweet".
Then, Sean jerks off his cock. Ryan says again "This is crazy – I never watched another dude cum". This apparently sounded hot to Sean so he starts shooting his wad all over his stomach.
Preview video: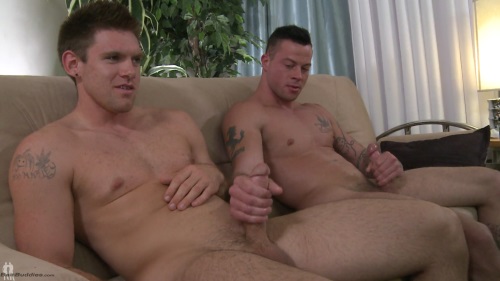 Click here to watch their complete video in HD quality at Bait Buddies!
Bait Buddies is a pretty hot straight guy site with plenty of updates and some very hot guys indeed. There is always a "bait" dude who is bi or gay, and a straight (or sometimes "straight") dude who needs to be seduced into gay sex.