The casting director at Baitbuddies, Caruso, first met Billy about two years ago, and at that time Billy looked like a young twink – skinny and just out of puberty. Billy wasn't so sure about doing porn back then and eventually decided against it. Caruso was surprised when Billy contacted him a few days ago and said he was all up for doing some porn shoots for Baitbuddies. And the surprise was even bigger when Billy showed up on the doorstep – he has really grown into a real jock and packed some serious muscles thanks to the hard work in the gym.
Billy is a gay boy and he's very much into straight men, but he prefers the more mature guys. Luckily for him, Caruso had just found a great mature man who goes by the name of Max Sargent. Max is 49 years old but he really looks much younger. I'd say he's in his mid thirties or so! Max is a beefy, muscular and hairy dude – damn! Just take a good hard look at that strong masculine body full of beautiful hard muscles! On top of all that Max sports a big stiff and pretty thick cock (7.5 inches or 19 cm long and 6.25 inches or 15,8 cm) in circumference) that can drill and stretch any hole. Max is big on working out and he regularly hits the gym – seven days a week, at least once or twice daily, so it's no wonder that his body looks so good.
Max told us that he has a girlfriend called Zoe who is of Asian descent but he didn't tell her that he would be coming to our place for obvious reasons. He tells us that his girlfriend loves hard, aggressive sex and usually yells and squirms a lot when he fucks her. But, there's a serious drawback – she has no clue how to properly suck a man's cock! Luckily, we have Billy to take care of that.
After the usual story with the missing girl, Max is shocked (allegedly) and says he doubts he can do it with a dude. Billy, on the other hand, is all too eager to get his hands on Max's hard body and cock. Max says that the only thing he ever did with another dude was to jerk off together with him, and then he let him suck his cock (cause he had heard that guys usually suck cock better)…. and that was all as far as Max's gay experiences are concerned. But, the money looks tempting and Max finally decides to take a plunge and see how it goes.
The guys start off by stroking each other's cocks. Then the director encourage Billy to get to work and start sucking Max's engorged stiff dick. Of course, Billy is a much more skillful cocksucker than Max's girlfriend and within seconds Max is on the seventh heaven!  Max told us later that the blowjob was so good that he was at the verge of cumming while Billy was sucking his dick. Quite understandable, considering the fact that he hadn't received a proper blowjob in ages.
Max then puts an appropriately large condom on his cock and Billy impales his ass on it. Billy is now enjoying every second of this fuck session, and he's quite vocal, moaning and squirming with pleasure. Max is still fully erect and seems to enjoy this as well! Billy suddenly gives a warm wet kiss to his lover and Max responds by fucking him even more passionately. Eventually, Billy lies on his back while Max is pounding him in that position, with Billy's legs up in the air. There's no doubt that Max likes it rough (we suppose his girlfriend Zoe taught him that's the best way) and fucks Billy harder and harder. He yells, "oh fuck baby!" and pounds that boy's ass until he fucks the cum out of him. Billy's cumshot was pretty huge and copious and he made a total mess, drenching his entire body and even the couch.
Max then pulls out and aims his cock at Billy's open mouth. He managed to say "Oh baby I'm cumming!" and squirts a nice big load of thick warm cum straight into Bully's eager mouth. Of course, Billy didn't want to spit it out but swallowed everything as if it was the best milkshake. Billy made sure that Max's cock was left squeaky clean and licked it up to the last drop.
Preview video: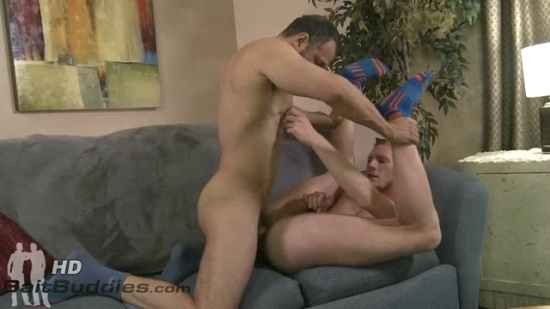 Click here to watch their complete video in HD quality at Bait Buddies!
Bait Buddies is a pretty hot straight guy site with plenty of updates and some very hot guys indeed. There is always a "bait" dude who is bi or gay, and a straight (or sometimes "straight") dude who needs to be seduced into gay sex.