Brayden is a beefy, muscular stud and this is his third appearance on this site. This time round, he comes as a more seasoned, experienced of the two guys and will play the bait. He is only 27 and just when he started out his porn career, his mind was filled with the desire to fuck some hot Latina pussy, thus putting his thick 8-inch monster cock to good use. My, my… how things have changed! Instead of hot Latina pussies, he's more interested in fucking other guys these days, although pussy still remains in his sphere of interest. It turns out that Brayden really liked sex with guys, so much so in fact that he told the casting director he would like to repeat the experience. Brayden then brought Zaq, whom he described as "a gay training client", but it turned out that Zaq is actually straight as an arrow, despite his metrosexual looks. Zaq fucked Brayden very nice and hard, and I suspect Brayden liked that even more than topping guys. I suspect that Brayden and Zaq met each other at least once again after the shoot, to repeat the experience!
Brayden understands that he's not a newbie anymore and that that has its perks, such as, he can be a bait and lure some new straight guy into giving gay sex a try. Unsurprisingly, Brayden is very much into this idea. Brayden is especially into having sex with other straight guys because, as he explains it, straight guys find gay sex so new, and the whole thing can be more exciting. Additionally, Brayden thinks that straight men are more masculine and tough, which is a further turn-on for him. Brayden's perfect guy should have plenty of hard muscles and be tough and rough, emanating masculinity all around himself. Well, we knew that Darin would fit the bill perfectly!
Darin is a bodybuilder with beautiful, deep blue eyes and big fat 7,5-inch dick. Darin grew up in Kentucky, although he's originally from Miami, but this combo does make him a bit of a redneck, which is just how we like 'em. His body is impeccably muscular and his muscles are hard and strong and ripped. However, his mindset leans more toward conservative views. So for instance, when the casting director asked him whether he had ever filmed himself fucking some girl (amateur video), he was flabbergasted to have even heard such a question… he would never do such a thing. Furthermore, it seems that Darin is not quite aware of how good he looks, he appears to be only partially conscious of his sexual appeal, which of course makes for a perfect amateur porn actor.
Darin himself thinks that he will make a good porn actor because his sex drive is always high and he would like to fuck women all day long, if he ever got that chance. So the casting director tells the boys to take off their clothes and soon enough they're both butt naked and with a raging hard-on. When both boys are fully empowered and hard, the casting director brings the "sad news" about the missing girl. As the screenplay usually goes in these cases, a double amount of money is offered, and the boys can hardly refuse such a generous offer. After all, the erect dick looks inviting and strangely enticing, even if you're a straight man. Dorin is still struggling with it, though, and says "Oh man! I don't know about that one!". The casting director and Brayden work together to persuade him into giving it a try. His sexuality or straightness is not going to be put into question – it's just for the money. And straight guys like money like anyone else, especially if they have a money-greedy girlfriend!
By this time, from all the philosophical (ha!) discussion in the room, Darin's cock is already limp , so Brayden comes to its rescue and provides an instant handjob. Brayden takes Dorin's hand and puts it onto his cock (sometimes you just have to show them step by step, wink wink). Brayden's handjob doesn't appear to do much for Darin's cock, though. Brayden knows full well what is expected of him now, he must get on his knees and suck that man's cock and bring it to life! Pay attention to Darin's face expressions while he is getting his first gay blowjob, it's priceless. In case you didn't notice, Brayden is an inborn, talented cocksucker whose skills are far above the average. Then the two guys kiss each other, which is an especially interesting and crucial stage because, just as we expected, that's the point where our big straight boy Darin literally melted into that kiss with Brayden. Something clicked in Darin's mind and from that point onwards, there was a pure sexual passion between these two. Darin even starts to massage and caress Brayden's ripped body, which I suspect is something that every man, regardless of sexual orientation, would like to check out: how another dude's body feels like when touched and caressed sensually. And also probably there's a question: how do girls experience a man's ripped body when in bed. Nothing wrong with all those questions, the male sexuality is more fluid than what people usually think.
Darin is then instructed to give it a try and suck Brayden's cock a little. Darin hesitates a little, but then gets on his knees and takes it in his mouth. Brayden's cock is pretty big – more than 8 inches of thick hard male meat, and considering this size Darin did pretty well.
Now it's time for Brayden's asshole to get a well-deserved stretching! Darin didn't think twice before shoving his cock deep into that ass. Darin penetrates it in one go and starts fucking Brayden mercilessly with his big rod pretty fast and deep. For Darin it was like fucking a cheap whore, pushing it harder and deeper inside. Brayden screamed and moaned like a madman getting his first big dick. The guys change position and now Darin takes Brayden's legs and pushes them into air, then penetrates him from above.  Damn these country boys really know how to fuck an ass, don't they!
Within minutes Brayden screams "you're going to make me cum quick!" and that's just how it happened. After a few moments Brayden can't hold it any longer and shoots a rather copious load all over his body. Brayden encourages his buddy to finish the job and fuck him until he cums too. It seems Darin didn't even need this suggestion, because he kept ramming his big cock into that ass without letting down. He removes the condom and shoots his load which hits Braden all over his body. Darin was so blown away by this orgasm that he told us "he almost came a second time". Well, who would have thought that! Another great straight boy experiences the joys of man-on-man sex, and it didn't feel wrong either!
Preview video: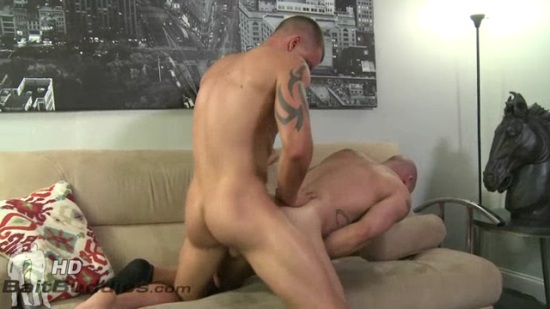 Click here to watch their complete video in HD quality at Bait Buddies!
Bait Buddies is a pretty hot straight guy site with plenty of updates and some very hot guys indeed. There is always a "bait" dude who is bi or gay, and a straight (or sometimes "straight") dude who needs to be seduced into gay sex.