Austin is a former Marine who found director Caruso through the contact form on Caruso's website. Austin claims to be straight, but he says he has experimented with other guys a few times, and that he has this crazy idea that involves his old buddy who is also straight. Austin says he loves to fuck pussy the most and that most of his sexual romps included pussy fucking, but that there were also a few times he sucked another guy's cock, and that he got fucked. He tells Caruso about his longtime friend, Carson. The two guys met in the marines during basic training and they used to spend their time together in a real bromance-type way: cruising the bars and looking for hot chicks to fuck. These two guys had some threesomes where they would find some free bar slut and fuck her hard until she couldn't even walk without staggering anymore.
However, they had never had sex with each other, or anything sexual for that matter. The "gayest" thing that they participated in was a certain circle jerk contest that they often did in the Marines, with other marines of course. Caruso wanted to know if they would be fine with a circlejerk now, to which Austin replied "it is what it is".
In any case, Austin says he's always been eager to know how it feels to have sex with another dude, and what better choice than his longtime buddy Carson. So Caruso instructed Austin to sign his buddy up on the site and that they would be ready to go.
In order for Carson to fully understand what is expected of them to do today Caruso explains about the circlejerk action, as a kind of introduction to man to man action. Carson was a little reluctant but since Austin said that it doesn't really matter anything he decided to go with it anyway. After all, it will bring in a lot more money than the movie with a girl. So the guys are told to get naked and get their cocks hard. Nice view of these two hot ex-soldiers sitting next to each other with hard cocks in their hands. Carson's got a very nice muscled chest, strong legs and a nice ass too. His cock is quite nice and big. Austin is, on the other hand, beefier and also has great legs and a really big dick. After doing the measurements with the tape it turned out that Carson's cock is 7 inches long, and Austin's no less than 9 inches!
The guys are standing next to each other face to face and they keep taking off each other's clothes until they're both naked. "This is weird" says Carson. "Awkward" replies Austin. They stroke each other's cocks and then Austin gets on his knees and starts servicing his friend's hard dick. Austin is still a newbie about this, you can tell that by his sucking only the cockhead of his buddy's dick, but he's really enthusiastic about it, which is a definite plus. The guys then kiss each other and that felt also "pretty awkward" but also pretty hot, if you ask us. Knowing that they are long time friends makes the scene look much hotter and sexier.
Now it's Carson's turn to reciprocate and he half-enthusiastically gets on his knees and sucks Austin's cock, going a few inches deeper than what Austin could. These straight guys seem to be obsessed by what their mates might think about them doing this, so they keep repeating the "it's weird" and "awkward" as if they need to explain themselves. Well, anyway. Sooner or later the cultural conditioning has to give way to the call of mother nature and the guys usually realize it's not so bad after all. That's how even straight guys realize that guys can give better blowjobs!
Caruso intercepts their little heavenly blowjob exchange by saying abruptly, "Somebody has to get fucked", and Austin promptly submits his application because he says that when his girlfriends finger his ass it usually feels good. "I gotta fuck you" agrees Carson. Carson starts treating Austin's ass as an ass of some cheap whore and slaps it with his hand. He adds, "it's a football" ass that he's seen so many times over the years while he played football with Austin. Carson says Austin's ass is "big and muscular" and hence the name. He puts a rubber on his erect cock and puts on some lube. Austin wants to ride it like a cowboy first and sits on it. This position proved to be too painful for Austin and he had to put more lube on it. After all, Carson's cock is pretty huge. Caruso made a suggestion that maybe it would be better if he just lied down on the bed and let Carson fuck him missionary style which is supposed to be less painful. And this proved to be a wise move because Austin's painful worries soon gave way to feelings of intense pleasure as his buddy Carson plowed his tight straight ass.
The guys soon come close to the edge and we can see Austin stroking his cock while Carson is plowing his ass. Austin shoots his load, and Carson continues to fuck him until he can't contain the seed eruption. He pulls out and shoots a nice load as well. In the "After the Shoot" interview Caruso informs Carson that Austin has  little confession to make. Of course, this whole thing was a set up by Austin who wanted to make an experiment and see how it is to have sex with your long time friend. He already had had sex with other guys and the whole idea of having sex with his long time buddy just proved too attractive an idea to pass. Carson's response was, as we would say, "priceless".
Preview video: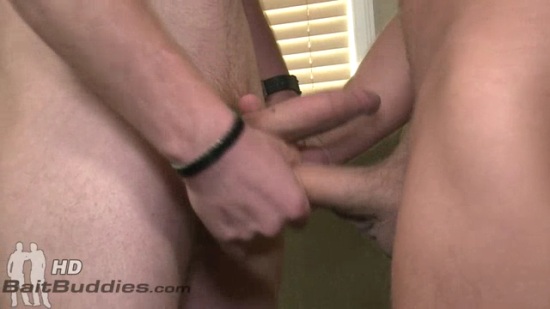 Click here to watch their complete video in HD quality at Bait Buddies!
Bait Buddies is a pretty hot straight guy site with plenty of updates and some very hot guys indeed. There is always a "bait" dude who is bi or gay, and a straight (or sometimes "straight") dude who needs to be seduced into gay sex.