by Ben Daniels (Admin) on Dec.13, 2014, under Chaosmen
Meet Raymond! He's a hot hairy daddy with mature masculine attitude, sexy muscular body, and plenty of body hair. For some strange reason, straight guys often tend to shave their body hair thinking that they'll look more attractive that way. Rubbish! There's nothing better than seeing a hot hairy stud. Raymond also used to shave off his body hair before but when we met I told him I'd appreciate if he let his body hair grow naturally. 
So when he showed up today we were mesmerized at his uber sexy hairy chest which had just the right amount of black manly hairs. When he was a young lad, Raymond used to race cars and unfortunately once he had an accident which left him with a scar on his chest and forehead. They're still visible but we don't really mind that at all.
Raymond has had a girlfriend for years and, according to what he told us, it seems as if she is the main source of their income, which sounds a bit strange considering the fact that Raymond is a very ambitious and horny guy, spunky and courageous. He seemed a bit wearied of this rather stale position in his relationship and decided to spice things up a bit by auditioning for a porn site. Luckily for us, he found our ad first and here he is now.
Another funny story: Raymond is no stranger to gay blowjobs. He says there were several gay guys who followed him wherever he went and wouldn't leave him alone until he finally agreed to let them suck his big thick cock! He says that he wasn't interested in the guys themselves and had to watch some pussy porn on his cell phone, although he commends their technique. He told us that he found the whole experience a little unusual and felt somewhat "dirty" after it, but he assured us that he was definitely satisfied with the guys' great skill at giving head. He said that he is now convinced that guys do indeed give better blowjobs. He thinks that he's over his initial uncomfortable uneasiness about getting a blowjob from a dude, so we can expect that he'll let some of our guys suck his daddy dick.
I sure hope it won't end only with blowjobs, though, and perhaps we'll be able to see something more as far as his interaction with guys is concerned. Although he looks very serious and masculine, I have a feeling that deep down he's a true mild-tempered soul and I guess he would do better in a submissive position with a guy than the other way round… but we'll see in time.
Raymond stroked his nice thick daddy cock for a while and let the cameraman capture his body from all the interesting angles. We get to see his muscles, his hairy virgin asshole and of course his thick cock.
We agreed that he would be coming here next week to get serviced by one of our guys, but it remains to be seen whether he'll agree to do something more.
Preview video:
Click here to watch their entire serviced video in HD quality at Chaosmen!
Chaosmen is a great porn site that features hot straight and bi men getting serviced or fucking their mates bareback for some cash. This site is exceptional and very unique because almost every single fucking is bareback and ends with a gorgeous internal cumshot or creampie.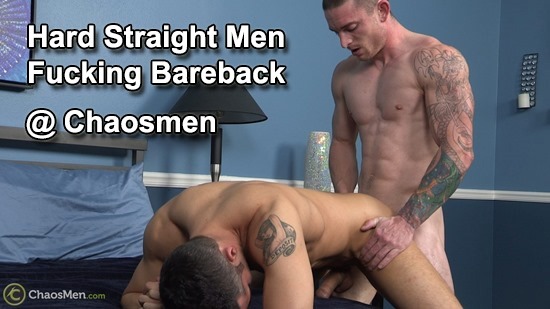 :hairy ass, hairy chest, handsome, jerking off, manly men, muscles, Raymond, showing ass, straight men, thick cock