by Ben Daniels (Admin) on Jan.16, 2015, under TheCastingRoom
Some of us often dream about mature handsome daddies. Take Mr Leandro for example (AKA Monsieur Francois). He is in his best years, beefy hairy daddy, with insatiable sex drive. Additionally, he loves to give out orders, dominate over other people and likes sex both with men and women.
Well, as far as men go, it seems that his experiences have only been virtual. His mature ass still awaits its hour of happiness. Mr Leandro's mind is downright dirty and always thinks about horny dirty stuff. Take for example his recent idea to make a video of himself and another man while they're having wild sex. In this video we can listen to Mr Leandro's most intimate daydreams and thoughts, while he answers the questions of our casting director. The casting director is all too happy to have such a great male specimen in front of his eyes and can't wait to measure and examine every single part of Mr Leandro's hot masculine body.
Naturally, there were guys who volunteered to give Mr. Leandro a helping hand… and who wouldn't like to check out that huge stiff daddy cock? Damn!
There's no doubt that Mr Leandro is going to star in some man on man films whose release is expected pretty soon. I, for one, am looking forward to seeing them.
Click here to watch his entire casting video in HD quality at
The Casting Room!
The Casting Room (formerly known as First Auditions) is a great, original porn site that showcases young, cocky straight men who would like to become porn stars and make loads of cash. They think that they'll be accepted right away and be able to fuck lots of girls, but they don't know that our casting director is very strict and wants to fully inspect them during the audition. He orders them to get fully naked, show their ass, and jerk off so that we can clearly see the cumshot. Plus, we get to hear all their fetishes and what turns them on.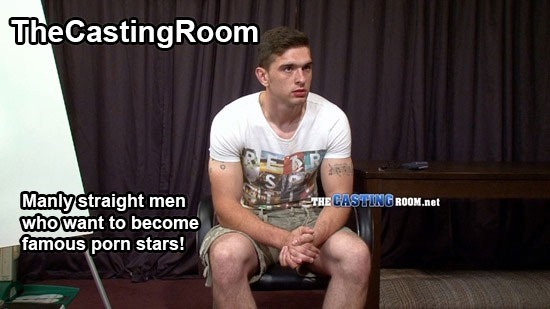 :Audition, big cock, cumshot, daddy, hairy chest, handsome, interview, jerking off, Leandro, mature men, Monsieur Francois