by Ben Daniels (Admin) on Feb.16, 2015, under CMNM
Handsome ripped boxer Henry has found himself in a serious predicament. He realizes that his trainers are pervy dirty motherfuckers with weird passion for dominance and other unorthodox methods of physical examination. No wonder that his trainers have such great affinity for his ass, it's quite attractive indeed. They are curious to find out how this masculine boxer will behave when his ass gets penetrated by phallic objects. The trainers want to see how his masculinity will accept or reject such things.
Of course, Henry is a strong man and can take a lot of pain without uttering a voice, but there's something… unsettling in the sensations of rude male fingers probing his asshole – his extreme heterosexuality wants to scream but some other part of himself actually likes it. If someone wanted to do that to him on the playground he would have beat the hell out of the poor bastard, but here he must endure all this pain and inconvenience. Any form of protest is unthinkable, since his income entirely depends on these pervy men.
I'm pretty sure that in the next episode we're going to watch a milking session with Henry the boxer in the lead role!
Check out these pervy men's wanton adventures in their whole videos in HD quality at CMNM.
Clothed Male / Naked Male (CMNM) is a superhot porn site where Nervous straight guys get stripped naked, groped and violated by fully clothed men.
There's nothing better than stripping straight lads completely nude, putting their bodies on display, and teaching them exactly how to submit! When they are in such a submissive position, one would be crazy not to use the opportunity and jerk them off!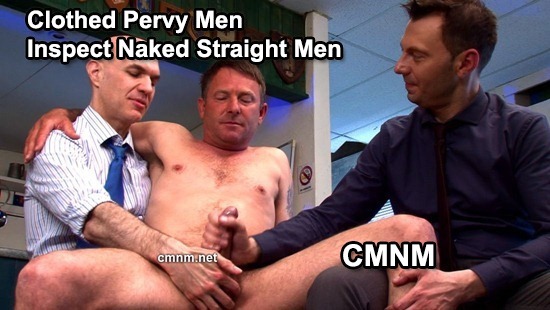 :boxer, Clothed Men, hairy chest, handsome, Henry, inspected, muscled, naked men, probing ass