by Ben Daniels (Admin) on Oct.19, 2018, under SpunkWorthy
The main director from Spunkworthy explains how he met Raleigh and why that guy attracted his attention in the first place. Raleigh looked like a typical blue-collar guy, a little rough around the edges and walking with a swagger. The first opportunity to strike up a conversation with him happened in the video game area, but at that time Raleigh was pretty much unapproachable.
However, several days after that they happened to come across each other again in a parking lot, and they started a conversation. Raleigh said he does construction work for a living, and the Spunkworthy director said that he makes porn videos. As soon as that was mentioned, Raleigh's eyes opened wide and got illuminated with burning desire.
"Seriously?" he asked. "Dude, I would love to do that."
The guys scheduled a test video shoot and after a few days Raleigh was in the studio. And boy oh boy, he was more than ready for it, at least judging by how horny he was! As soon as he whipped out his cock from his pants, it popped a nice throbbing boner from his boxer shorts. And after a few seconds you could see a few drops of precum forming on the tip of his cockhead as well.
Raleigh described himself as "very straight", but to us it seemed as if he was a bit too eager to invite the director to play with his cock. The director couldn't resist the temptation and reached up to massage Raleigh's cock by rubbing in the precum into it. Raleigh loved that and rolled his eyes back into his head to show appreciation.
Raleigh also tempted the director to spread his ass cheeks and play with his cock by tap-tap-tapping onto it while he was lying on the couch. The director took his task seriously and started to stroke Raleigh's cock with the intention to bring him to the money shoot.
Raleigh said that he did jerk off one night before the shoot because he wanted to practice. But despite that his cumshot was huge. And when the director's hand worked its magic on Raleigh's dick, Raleigh just closed his eyes and started to shoot warm jizz all over the place!
Preview video:
Click here to watch and download his entire video in HD quality at SpunkWorthy!
SpunkWorthy is a great porn site that features younger straight amateur dudes. Lots of truly straight military guys doing gay for pay only once or a few times! This site is usually the first and only place where you'll see these bad boys, so don't miss out!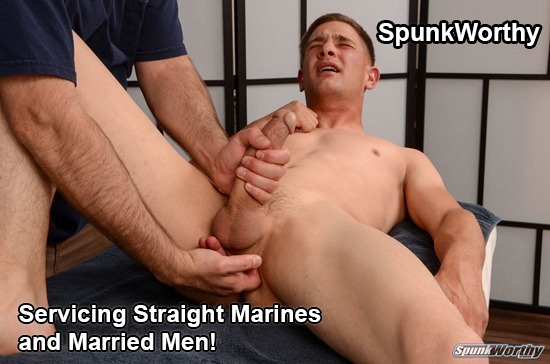 :beefy, big cumshot, blue collar men, construction worker, hairy chest, handjob, helping hand, jerking off, Raleigh