by Ben Daniels (Admin) on Sep.01, 2015, under Icon Male
Ian Levine is chillin' in Nick Capra's bed, enjoying the luxury of Nick's house and expensive bedding, and thinking about all the weird but fortunate coincidences that brought him here about a day ago. Nick enters the room, carrying the breakfast in his big masculine hairy hands. He gives Ian a strawberry and kisses him. Ian couldn't have dreamed that he would be taken care of in such a caring way by this hot manly daddy. What could possibly be more cool than having such a hot sexy daddy to pamper you, day and night?
Nick asks his newly found boyfriend whether he is willing to help him, because as the old saying goes, it takes two to tango. Of course, Ian is willing to be Nick's young boyfriend and lets Nick explore his youthful smooth body from head to toes. Nick gets concerned for a moment, that this all looks perhaps a bit too good to be true, and he thinks he might have gotten himself into something shady, but Nick reassures him of his good intentions. Namely, all that Nick wants is to have a young smooth boy to spend his days and nights with him and take care of his horny needs. Nick plays with Ian's cock, giving it a good sucking and he also licks the boy's balls.
Ian defo gets the royal treatment in Nick's house. Nick slowly approaches Ian's ass crack and explores it with his fingers. Nick's cock is by now fully hard and its size makes Ian salivate profusely. Slowly Nick works on Ian's hole and tries to relax it with his tongue. After some time Nick penetrates that boy hole and starts to fuck him gently. It takes quite some time for the boy's hole to get stretched, but Nick has lots of patience.  Meanwhile, Ian is stroking his cock while Nick pushes his rod ever deeper into that boyhole.
The guys have a pretty passionate making out session, there's a lot of kissing and caressing. Nick works his way into Ian's ass and fucks it pretty hard, then pulls out and shoots his load. Nick's massive cumshot splatters all over Ian's back, and Nick rubs his jizz into the boy's smooth skin. While Nick is playing with Ian's hard dick, Ian strokes it and shoots his load as well. The guys kiss and cuddle like two pigeons in one nest! Ian is certainly indebted to his newly found sugar daddy.
Preview video:
Click here to watch or download their entire video in HD quality at Icon Male.
Icon Male is a hot new porn site from Next Door Studios which focuses on the fantasy that involves sex between a younger man and a more mature man. Lovers of sugar daddies should be quite pleased with this website. The men are really very hot, and both mature and younger guys are well cast. I can also say that the production quality is very high.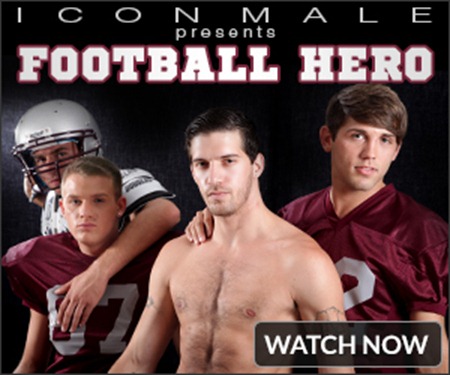 :aggressive fucking, blowjob, cumshots, DILF, hairy chest, hairy legs, Ian Levine, masculine men, mature men, muscles, Nick Capra, older on younger, sugar daddy