by Ben Daniels (Admin) on Nov.03, 2015, under MachoFucker
Today I'd like to show you this hot manly stud of Greek and Arabian descent who goes by the name of Cristos. He's a relentless fucker and knows very well how to plow a nice tight hole. Let's see what happened in these two updates which feature Cristos.
Cristos & Hector Take On a Lisbon Bottom Boy

In the first update we can watch both Cristos and horse-hung Hector taking care of a freaky street lad from Lisbon. The video starts with Cristos getting a sloppy handjob from the bottom boy. Then Hector intervenes and is the first to break in the boy's ass – check that out, that Mediterranean boipussy certainly got a thorough stretching thanks to Hector's magnificent huge monster cock!
Hector fucks it hard and eventually deposits his load into the boy's ass… then Cristos comes in and gives his contribution to the hole stretching programme!
*****
Cristos & Reuben
In the second video, Cristos and fitness trainer Reuben had some hot fun together. From the get go Cristos made it clear that he, as a complete top, would treat the black boy as a total sub boy. No pleas no persuasions, nothing of that sort will help assuage this total top's desire to dominate. The owners of Machofucker have dubbed this video "Black hunk down" (a play on the words of a famous Hollywood movie), and I think it's a fitting description of what actually happened there!
Cristos & Reuben
Preview videos:

Click here to go to Machofucker and watch these bareback movies in their entirety!
MachoFucker is a fantastic site that features only macho-masculine men with very big dicks, and extreme bareback hardcore fucking. Lots of creampies too. Machofucker tops are very aggressive fuckers and you'll be able to feel the energy and stamina coming from them.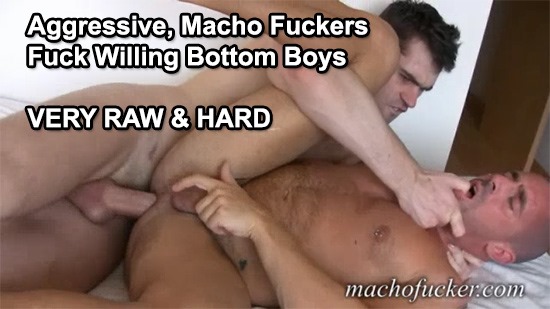 :aggressive tops, bareback fucking, Breeding, Cristos, Hector, huge cock, Lisbon boy, monster cock, muscled, Reuben, tag-teamed