Today we have two young soldiers. Aiden is relatively new to the Navy, but he's already decided that he's going to be "a lifer" in the service. Aiden is very tall, well-built and has a hot, handsome, manly face.
On the other hand, his buddy Jay is a bit more experienced since he's been in the service for several years. Jay is thrilled to have a new buddy with whom he can now exchange his experiences from the military service, as well as soldiers' favorite topic – hot girls and sex.
Aiden starts telling Aiden about his encounter with Miss California and how he fucked her senseless during one crazy party in California. Jay is now determined to find out whether he can deliver a better blowjob than that Miss California.
Both guys start massaging their weapons inside their camouflage uniforms. Jay thinks it's the right time to get to some concrete action and grabs Aiden's hot fat cock in his mouth. Jay sucks that army dick like a complete pro, you'd never know a self-confessed straight military dude could suck a man's cock so well, but there you have it!
Jay is totally devoted to the task at hand and swallows Aiden's entire shaft. I guess he wants to prove that he can suck a man's cock better than Miss California? Anyway, Jay removes Aiden's uniform to reveal Aiden's perfect muscled chest and hot Navy tats.
Jay thought that Aiden might want to return the favor a little and offers his cock for sucking. Aiden proved to be a decent cocksucker and brought Jay to the point of cumming. Jay rolls his eyes and in the next few moments we can watch strong, white streams of jizz shooting from his cock. Jay's cum ends up on Aiden's cheek, so effectively Aiden got face-spunked in this scene. Jay's cumshot was pretty big – one, two, three, four streams of hot jizz… five, six.. I stopped counting then. It was really an epic cumshot. Aiden's whole face was totally blasted and covered in Jay's spunk. Amazing!
After shooting his load, Jay thought it would be nice to finish Aiden off by blowing him to the point of cumming. Aiden shoots his load directly into Jay's mouth.
The boys made quite a mess, but it's the kind of mess we like and expect from hot army dudes anyway!
Preview video: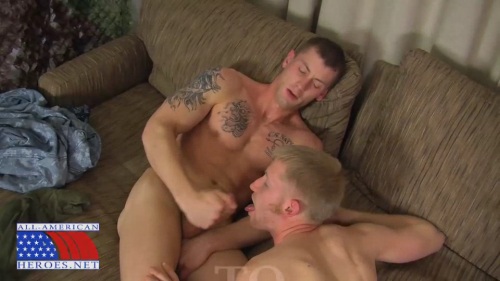 Click here to watch their entire video in HD quality at All American Heroes!
All American Heroes is a very cool military site with all kinds of uniformed men (firefighters, military men, lifeguards etc.). It's an unmatched and unavoidable destination for all lovers of hunky, hot uniformed guys who regularly blow their loads and fool around with other guys in the uniform!