by Ben Daniels (Admin) on Apr.11, 2016, under NextDoorRaw
Bridger Watts drops by his old high school friend Quentin Gainz to survey his property. That kind of work keeps him occupied so he doesn't have to think about his imminent divorce and many other problems he's been having at home. Quentin has been dreaming, fantasizing and lusting over Bridger for quite some time and he joyfully agrees to let him stay in his house for several days.
Bridger is now in the shower, slowly relaxing and meditating while contemplating what he might do next regarding his difficult marital issue. As luck would have it, Quentin passed nearby just at that moment and manages to take a peek at Bridger's hot, muscular body that is being bathed in tiny droplets of water. On the one hand, Quentin feels sorry for Bridger that he must go though this difficult time, but on the other hand he can't deny that he's lusting over his buddy as well. Nervous because he has to shut his inner desire out, Quentin opens the fridge to get some food. But Bridger has caught Quentin's while he lustfully watched him in the shower, and appears suddenly behind Quentin and touches his stomach. He asks Quentin if he always secretly stares at other men while they're taking a shower or is it just him, and Quentin innocently says he's never done anything like that before.
Well, Bridger hugs Quentin and kisses him passionately, while at the same time that towel around Bridger's waist falls on the floor. The two men move into the bedroom and Quentin takes initiative by pushing Bridger up against the wall. He lustfully touches Bridger's chest, then pushes Quentin onto the bed. Little by little, Quentin's cock finds its way to Bridger's mouth and he sucks his long time buddy like a pro. Bridger takes care to properly deepthroat that cock that belongs to his kind house host, then the guys switch roles and now Quentin is returning the favor.
Bridger's cock is fully hard by now and aches to pound a hole. So Bridger asks Quentin if he has ever received a man's cock up his arse, and if he's done it bareback, to which Quentin promptly replies that he has never received it. Never ever? Well now. Anyway.
Bridger shoves his nice fat cock deep into Quentin's arse and fucks him with a smile on his face. Quentin shudders from the cock's assaults in his ass but Quentin has a fantastic propensity to accommodate big dick and since a lot of time has passed since he's received a dick in his ass, he is horny as fuck and doesn't take him much ass fucking to cum. After some time Quentin is ready to shoot his load. But first, Bridger wants to fuck Quentin missionary style while Quentin is jacking off. Bridger then pulls out and shoots his load all over Quentin's body, including his face. Real bromance!
Preview video:
Click here to watch their entire video in HD quality at Next Door Raw!
As the name itself implies, Next Door Raw features some of the hottest hunks from Next Door Studios in raw action (no condoms). There are also some new guys that didn't appear previously on their sites, so check them out. The guys are pretty hot and masculine (mostly straight gone gay for pay), so the movies are usually interesting and hot to watch!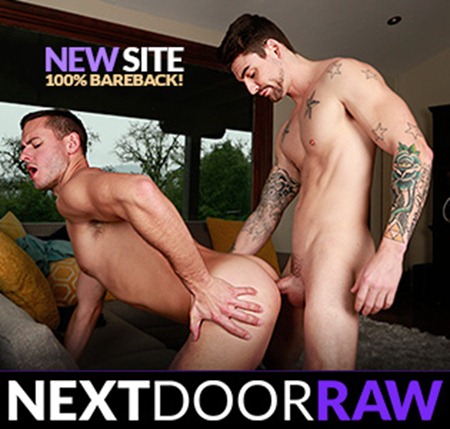 :anal sex, bareback fucking, beard, big cumshot, big dick, Bridger, handsome, high school buddies, muscled, Quentin Gainz, ripped, tattoos