We've already seen how this adventure began for young Ben in the previous update. Ben called Master Shamus to his own house and now he must obey him.
Master Shamus takes Ben to the bathroom where he orders him to lick and swallow his piss. Next, it's time for Master Shamus' asshole to be properly cleaned with the sub's tongue.
Shamus continues to further humiliate young ben and pushes ben's face deep between his ass cheeks. Ben is pushed to lick Shamus' hole and be happy about it.
Ben must suck Master Shamus' big dick and learn obedience. He is a lowly slave, while Master Shamus is the epitome of a real man. Thus, he is to be revered and serviced any time he wants!
Preview video: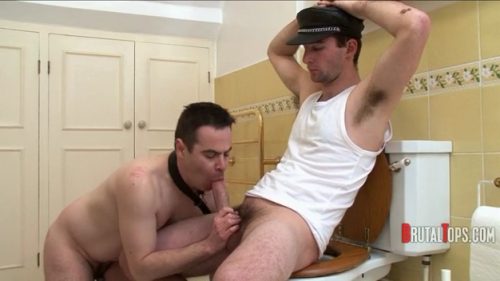 Download this one and many other horny new BDSM videos at BrutalTops!
Brutal Tops is a fantastic site for lovers of the most ferocious sexually aggressive doms in the world. These dominant men love to give orders which have to be obeyed!