by Ben Daniels (Admin) on Apr.28, 2016, under CFNM TV
Let's face the facts: there are few more unpleasant and embarrassing things that can befall a young man than being fully naked in front of a bunch of fully clothed women. While men may boast and brag about their sexual conquests and sexual prowess among themselves, things look quite different when they're faced with a horde of strong and domineering women!
Take for example poor young lad Peter. He found himself totally naked in front of these strict, domineering women who want to inspect his penis and scrutinize his entire male body from head to toe. These women won't be satisfied with his embellished male fantasies and stories in which he is that great women heartbreaker who goes about and conquests female hearts and souls. No, these nasty pervy women want to see his dick and inspect his muscles and make sure that he's fit for the job that they have given him to do. Peter has already become anxious and sorry that he didn't devote more attention to his work… now all those dreams about spending time in the Bahamas with hot girls may turn to nothing!
Peter's troubles never seem to go away… these nasty inquisitive women have thought of another way to torture him – now they demand that intimidating Doctor Heinz and his giggling nurse Cheryl thoroughly examine his naked body. Not only do they look into his muscles, but also closely inspect his testicles and penis. And although Peter thinks this is the last thing they can do to him, he has no idea that his troubles have only begun!
In the last installment of this series, we find Peter forced to walk around the room while a bunch of hot women are watching him closely, discussing the tiniest details about his genitals – all that with complete disregard to him as a person. The women discuss all the details about his cock and balls as if he weren't even present there with them in the room! Mrs Selby would like to know if the treatment has been successful for her son Rodney, so she calls him in. Now these pervy ladies have two young potent gentlemen in front of themselves and they are eager to compare their bodies and genitals and comment upon all the details that they notice about them. Some of the ladies want to know who of the two men has the smallest soft penis – the ultimate disgrace for every man on the planet! And as we all know there's only one way to determine the length of the man's penis, which is – to make these two guys jerk off while standing their completely naked in front of these scrutinizing women and let the ladies decide which one of them has the biggest and which one has the smallest tool!
Click here to watch their entire adventure in HD quality at CFNM TV!
CFNM TV is a brand new site from the creators of sites such as CFNM, Brutal Tops, Breeder Fuckers, The Casting Room and CMNM. If full-length videos of hung masculine men being dominated by beautiful horny women turns you on, you're certainly going to enjoy this site. It is actually the video site specific CFNM site that's made especially for those who prefer videos to photo stories.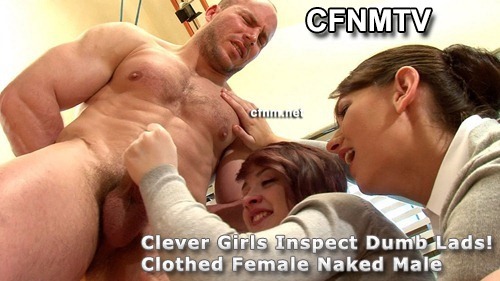 :comparing dicks, Doctor Heinz, doctor's office, domineering women, examined, hairy chest, inspected, jerkoff contest, Mrs Selby, naked men, nurse Cheryl, peter, Rodney, Sperm Sample