by Ben Daniels (Admin) on Oct.06, 2016, under CMNM
We continue our story about the pervy Headmaster and his inclination to continually inspect young hot jocks in his school (see previous parts here and here). He started examining young and sexy Alex, who acts as if he were serving as a disciplined soldier in the Russian army. He obeys every Headmaster's order and his superiors' wishes are his commandments, always. The pervy Headmaster is totally intoxicated by the manly scent of Alex's big balls and can't resist sucking on them and examining Alex's butt crack with his tongue.
Unsuprisingly, Alex's cock gets spontaneous erection (to the great embarrassment of its owner) while the pervy headmaster is inspecting it. It's no wonder, because that same erection happens spontaneously even while Alex is not touching it, but merely has a naughty thought during classes, say, about his girlfriend. His cock usually gets so hard in his underwear that he's unable to get it down willingly, and it gets so hard and hot, he feels it would almost burn his underwear.
Obviously, this sort of wantonness calls for some mild form of punishment (at least the pervy Headmaster thinks so), therefore he takes a cane and beats the young Russian stud on his ass cheeks several times until it gets red. Alex's erection doesn't subside, though!
Check out these pervy men's wanton adventures in their whole videos in HD quality at CMNM.
Clothed Male / Naked Male (CMNM) is a hot porn site where Nervous straight guys get stripped naked, groped and violated by fully clothed men.
There's nothing better than stripping straight lads completely nude, putting their bodies on display, and teaching them exactly how to submit! When they are in such a submissive position, one would be crazy not to use the opportunity and jerk them off.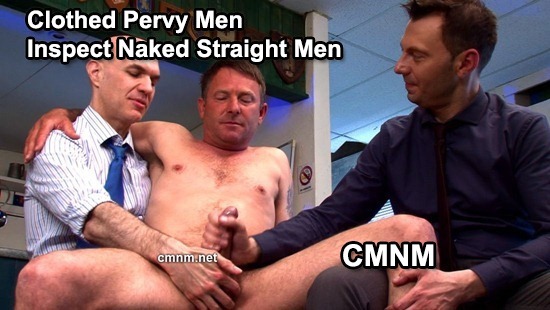 :Alex, assistant, Clothed Men, Dobrovski, handsome, inspected, inspecting ass, inspecting balls, jock, muscled, naked men, pervy headmaster, spanking ass, spontaneous erection, tattoos