by Ben Daniels (Admin) on Mar.10, 2017, under Straight Fraternity
Now here's another good blast from the past, in this case from 2008. Cole and Kalin are real-life best buddies. They have known each other their whole lives and it's really nice to see them fooling around and playing Gay Chicken for the first time ever!
First they kiss each other and try to get all sentimental and romantic. Their cocks respond by getting hard and the next logical step is a helping hand from your buddy. It didn't seem they were shy about touching each other's cocks! It's always hot to watch two friends stroking each other's big erect cocks. Cole's dick is really long and big, and Kalin's uncut cock is pretty solid as well.
Then the next step in this Gay Chicken game is to do a blowjob for your buddy. Cole swallows Kalin's dick and Kalin begins to face-fuck his friend. Then Cole wants to return the favor and sucks Kalin's dick. Cole's dick is definitely not so easy to swallow, and Kalin can only get some of it in his mouth. The result of this match is more or less a tie, but Cole wants to fuck Kalin and thus win the game! After some time Cole is near the point of no return, and moans, "I'm cumming!" He pulls out and shoots a nice big load all over Kalin's back.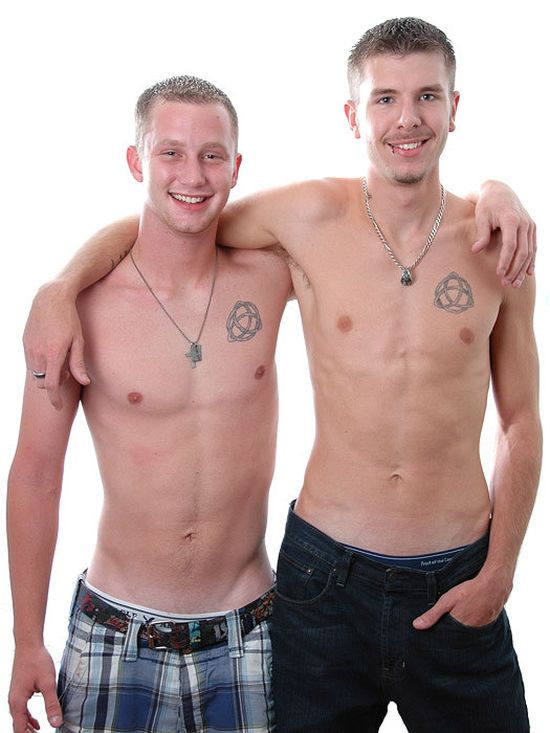 Click here to watch his entire video in perfect HD quality at Straight Fraternity!
Straight Fraternity is a great site that features hot and horny straight amateur guys. The guys here are funny, cool, and entertaining… and of course hot as hell… I'm sure you'll enjoy watching their antics! The site authors really love to show cumshots and if you're a cum lover, you will like this site.
:amateur guys, best mates, Cole, friends, handsome, helping hand, huge cock, Kalin, monster cock, Mutual jerkoff, stroking cock, well-built