by Ben Daniels (Admin) on Sep.28, 2013, under HardBritLads
Kayden Gray has a hot lean jock body and that huge 9,5-inch cock is definitely something you can't forget so easily. I would venture to say that it looks like the biggest cock I've seen this year. And when it gets hard it stays hard.
In the beginning we have a little chit-chat and Kayden is obviously in the happy mood, he's all smiles. He speaks a bit about his workout routine which helps him to stay fit. He says that he's into guys but I just had to have him here due to his great looks. Kayden thinks that his best part of the body is his chest, and then proceeds to show us what he means. He also admits that he's very fond of his huge dick (and who wouldn't be?).
The scene starts off with Kayden sitting on the sofa and wearing black sports outfit, and black football socks. He pulls his vest a bit to give us a better view of his ripped chest and six pack. He pinches his nipples for some time and then begins to massage his cock through his shorts. He has one of the biggest bulges you'll ever see, I mean those sports shorts look like they're hiding a mountain inside! He takes out his dick and removes the shorts completely, which reveals his huge meat that quickly grows into a great monster.
Kayden's dick is not only long, it's thick from the base to the tip. Kayden loves to show it off, giving us a great view of his foreskin as well. He removes his clothes altogether and continues with the jackoff session. Not for a second will you see his dick going down, it remains rock hard all the way to the end.
Now Kayden stands up and continues to stroke it in that position. His monster cock sways from one side to the other. From this position we can see that it's a little curved but it remains pointed straight to the sky.
Kayden admits he likes to get horny even without using his hands. He massages and pinches his nipples while his cock responds accordingly. There is some precum now appearing on the tip of his cock and he uses it to lube it.
Then it's time for showing off that inviting ass, too. It is totally smooth and firm from tight muscles. He gets on all fours and gives us a great view of his hairless hole. Then he reaches for his dick between his legs with one hand, while the other hand is used to massage his ass crack.
Then he turns his face toward us again and strokes his dick while standing for some more. Then he goes back to the sofa. I got an impression that he was so horny he could blow his load any time now, but he knows the art of edging so he continues to surf right there at the very border of orgasm.
After some time, however, his starts breathing more deep and heavily, and there's no doubt that he's about to nut. He starts shooting his seed in thick forceful squirts that hit all the way up to his chest, while the later squirts hit his six pack abs. It's such an interesting cumshot that we had to show it once more in the slow motion in the full video.
Preview video:



Click here to watch his entire video in perfect HD quality at Hard Brit Lads!
Hard Brit Lads is a relatively new porn site that features only the most masculine and well-built straight and bisexual guys showing off and fucking the shit out of each other. The videos are well-made and shot in HD. Don't miss out lots of amazing, manly men!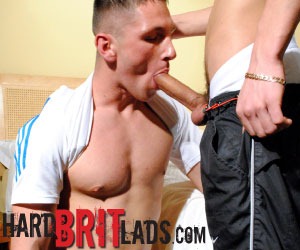 :9-inch dick, big cumshot, fat cock, fit body, jerking off, Kayden Gray, monster cock, six pack abs, young stud