I've been wanting Clyde to bottom for quite a while now but he has been avoiding it like a plague. For those of you who think that most of these guys aren't straight – you're wrong. Clyde is a typical example of a hardcore straight dude who doesn't want to "compromise" his heterosexuality or doesn't feel relaxed about doing gay stuff. But oh well, perhaps it's even hotter that way, eh?
But today Clyde agreed he could give it a try and bottom for Vander. The two of them look just awesome, both are masculine as fuck and built like tanks, with lots of muscles.
I thought it would be interesting to try blindfolding Clyde so as to make him feel more "passive", and we began the blowjob part that way, but he gagged a lot – no wonder when you take into the account that Vander's cock is absolutely Huge and that Clyde actually deepthroated it while blindfolded.
So Vander removed the blindfold and from then on Clyde didn't have as many problems sucking Vander's schlong. Actually I explained to him that he didn't need to deepthroat it all the time, and that when he felt about to gag he could only lick it. This worked very well.
But when he had to take Vander's cock up his ass, Clyde just couldn't do it for some reason. So instead Vander just sat on Clyde's cock and began to ride it!
This was actually an extremely hot bareback fucking and both guys were into it. Pay special attention to the grand finale when Clyde cums onto Vander's asshole and then shoves the cum into Vander's hole.
This fake creampie on Vander's ass was so cum inducing for Vander that he immediately shot his load (and you can clearly see it in the video!). So basically Clyde fucked the cum out of Vander, which is for me one of the hottest moments in fucking in general!
After that Vander licks clean Clyde's cock from all the cum even though it was inside his ass.
Fuckingly hot, superb bareback movie!
Short preview video: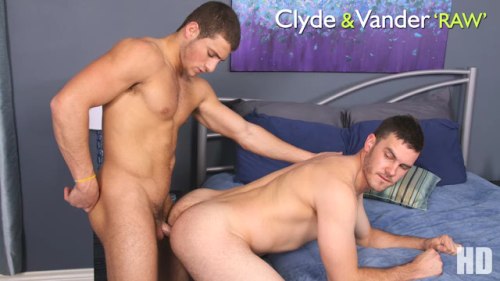 Click here to watch their entire video in perfect HD quality at Chaosmen!
Chaosmen is a great porn site that features hot straight and bi men getting serviced or fucking their mates bareback for some cash. This site is exceptional and very unique because almost every single fucking is bareback and ends with gorgeous internal cumshot or creampie.