by Ben Daniels (Admin) on Mar.22, 2018, under Military Classified
Meet Marcus! He's a hot and manly military man and just by looking at his tattoos one can easily see that he's a total rough cut – definitely not too sophisticated, but then again, we like 'em just because of that.
Marcus believes that a man is supposed to work hard and have the right to fuck a chick hard, but he also likes to treat women with care and respect that they deserve. How much more can you ask from a man? Anyhow, although he had gone through various tough stuff in his 25 years, he had never got a blowjob from another man – until this day.
Marcus was quite reserved and sceptical about the whole blowjob thing, and weighed carefully all of Rob's words. Although Marcus might have went through some tough times in his life, it seems he just wants to be respected by other people. As soon as you approach him with proper respect, he's all sweet and pliable! We don't know if he will get more blowjobs from guys in the future, but we dare say his dick had no complaints whatsover about Rob Navarro's considerable cocksucking skills!
Rob begins his work by pulling down Marcus' camo pants just a little and then rubbing his crotch slowly. His cock responded immediately by getting rock hard in mere seconds! Although he was watching some pussy porn, he was also surprised that his cock got hard so fast and had to look at it to see what was going on. Rob started licking his balls, which made his cock even harder. That ball-licking must have made him crazy-horny and dizzy in head because he had such a satisfied face expression! Soon enough, Rob swallows Marcus' cockhead and gets into a steady rhythm. Marcus felt he was out of control and that his dick just took charge of the situation!
Rob would back off for a moment, then begin again, just to put off the orgasm. Then Rob told Marcus to stand up and fuck his face. Marcus wasn't gentle and grabbed the back of Rob's head and pushed it onto his huge stiff dick. Sweat appeared on Marcus' forehead while his cock was at Rob's mercy. Marcus watched himself in the mirror as his magnificent tool was being serviced professionally for the first time.
Little by little, Marcus' breathing became heavier and you could tell he was close to the point of no return. He moaned and just had to say how fucking great it all felt. The next moment he unleashed a torrent of jizz and fed Rob the well-earned present into his mouth, onto his hands and some of it fell on Rob's leg!
Later, when he recovered from the amazing blowjob, Marcus tells us his take on the whole thing and gay blowjobs in general from the perspective of a total straight guy.
Preview video:
Click here to watch or download their entire video in HD quality from Military Classified!
Military Classified is a well-known straight guy site that features lots of military men (marines, navy men, Air Force servicemen and an occasional civilian guy as well). At the moment of writing this mini-review there were more than 420 videos of various guys in the content area of the site! Of course, the guys are always horny and eager to bust a nut. While for some the primary motivation is money, there are also many guys that are curious to see for themselves if it's really true that men suck cock better. All in all, the guys are mostly straight, quite hot and masculine. Sometimes they show up in their uniform, but in most cases they come in casual clothes. Some people don't like the cocksucker here or complain about the site updating only once a week, but I personally don't mind about these things at all. I really like the young man on this site and despite the fact that they often appear to be somewhat confused or behave awkwardly (which is not unusual for straight guys in their first gay porn movie), they're among the hottest amateurs I've seen anywhere. The best advice I can give you is to check out the site and decide for yourself.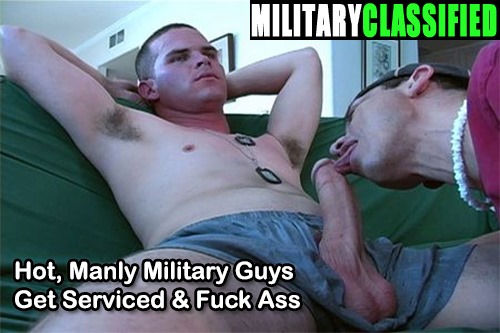 :big dicks, blowjob, combat boots, handsome, Marcus, military men, military uniform, muscled, ripped, Serviced, stiff cock, tattoos, thick cock