Rob from Militaryclassified first met Chris while he was impersonating a hot chick on an online dating site. Pretending to be a female character online, Rob told Chris that if he decided to meet with "her" bisexual boyfriend (Rob) and be OK with interacting with him, then it would be possible that all 3 of them could gather together for some hot 3-way action. Chris seemed very interested in this proposal, and told Rob that he could definitely handle the blowjob from a guy even before they actually met. However, he changed his mind and chickened out at the last minute. And it seemed that was the end of that story… but it wasn't.
About a year after that, Chris private messaged Rob's female character online and Rob decided to spill the beans and tell him that there was no girl and that he worked for a website that specialized in straight guys that jerk off, get blowjobs and so on… for cash. Chris had broken up with his girlfriend in the meantime, and he was very horny and curious to try anything new. However, it took several months of friendly persuasion but Rob finally managed to convince Chris that it was a good idea to give porn a try. As he was in active duty at the time, he and Rob agreed to meet off base in Chula Vista. Chris didn't own a car at the time, so Rob picked him near the naval base at 32nd street and brought him back to the hotel where he was staying, which was near hotel circle in mission valley, in San Diego.
Although he looked cool and relaxed outwardly, you could tell that he was really nervous and asked Rob a ton of questions about pretty much every aspect of the shoot. Things like: where would this be shown? Exposure? Should I cover my tattoos?… anything you could imagine. Rob duly answered all of Chris' questions, they negotiated on the price and then began shooting the video. That was a historic moment because it was the very first time that Chris was going to be filmed for a porn site. And probably more importantly, it was the first time that he would let another guy suck his cock! Yeah, Chris was definitely nervous! However, his dick wasn't nervous at all and was so excited that he was on the verge of cumming almost throughout the entire shoot. There were times when Chris almost came before Rob was prepared for it.
When all the details have been agreed upon, Rob got on his knees and gave Chris his classic "Rob's special", and soon enough Chris was in heaven. He was so turned on that Rob had to remove his hands from Chris' tool so that he could recover and not cum too soon. Chris has one of the most well-built, muscular bodies that Rob has encountered on a straight dude. He has blond hair, blue eyes, smooth body, firm but not too big muscles, big strong thighs, huge calves and legs, as well as a nice stiff and straight cock with big balls that one could just watch him for hours and ponder at how that sheer perfection was constructed and brought to life!
Rob oiled him up with some baby oil because he wanted to touch and feel his strong body with his hands, and the sensation was amazing. Chris got so excited by the fact that another guy was touching him that it even blew Rob away. Chris' dick almost exploded with jizz several times, Rob approached it and started to suck and stroke his cock, and even managed to finger his ass. Chris' climax was so strong and earth-shattering that Rob counts it among the 10 best ever on his site. Chris' jizz was thick as yogurt and ran down Rob's hands. Rob says he regrets not tasting it back then and he's sure it would have tasted amazing. It's always great to watch these nervous but extremely horny straight guys getting their very first gay blowjob! Their straightness makes them feel reserved, but deep down they just want to bust their nut and are definitely surprised that another guy can make them so turned on and deliver an unforgettable blowjob.
Preview video: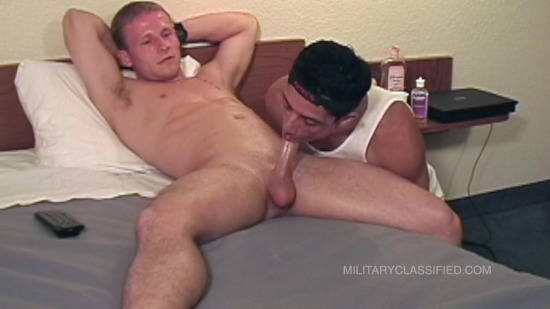 Click here to watch or download his entire video in HD quality from Military Classified.
Military Classified is a well-known straight guy site that features lots of military men (marines, navy men, Air Force servicemen and an occasional civilian guy as well). At the moment of writing this mini-review there were more than 420 videos of various guys in the content area of the site! Of course, the guys are always horny and eager to bust a nut. While for some the primary motivation is money, there are also many guys that are curious to see for themselves if it's really true that men suck cock better.