Since he first appeared on Militaryclassified website, Langley has become very popular. And it's pretty easy to see why – he is tall and has a very nice muscular body. Also, Langley's cock is quite nice: big and thick, and Rob often jokes saying it's "party size", which means it's perfect for blowjobs! Rob confesses that he's already imagined himself riding that cock on numerous occasions, and hopes that he would soon make that dream into reality.
However, this time Rob had to be satisfied with just blowing Langley's manhood. And he was so impatient to get on his knees and to swallow that military dick! Rob gets additionally encouraged by the fact that Langley loves getting a blowjob from him, and often praises him by telling him loudly just how much he enjoys the experience.
It's impossible not to notice this tall military stud when he walks into a room. And when he takes off his clothes, you can bet that pretty much everyone will check him out. Langley left his clothes on the floor, and while he was still standing, Rob took the camera and walked around him to show us every little detail of Langley's hard body. Rob was aching to swallow that cock as soon as possible, but he also knew that his members would appreciate this "tour around Langley's body".
There's no denying that The Air Force has been quite beneficial for this masculine guy. It seems that there is always a very specific type of man that this branch of military accepts, and Langley is a very fine specimen indeed. Even though he is not in the military anymore, he has kept the discipline that he had learned while he was in the service, which is clearly visible in his demeanor. With the camera tour finally finished, Rob was able to get on his knees and to bury his nose and mouth between Langley's ass cheeks! He says that it was delicious, and if you want to see the whole thing you should check out "Rob's cut".
After feasting on his ass, Rob switched to Langley's cock and got into the "cocksucking mode" as if he had never sucked a cock before! Not wanting to disappoint this big fella, Rob was exceedingly detailed in his approach and started out slowly at first, as if he was just doing the foreplay. But as soon as his dick was fully hard and stood like a rocket, Rob switched gears and started sucking that dick at the regular speed, which made Langley a lot hornier than he was in the beginning.
Langley began to loudly moan and keep telling Rob how great that feels and how much he enjoys what Rob is doing. Encouraged by this, Rob put even more effort and care into his art of cocksucking and brought Langley to the next level. Rob says that he thoroughly enjoyed blowing this big boy's dick. The interesting thing about Langley is that you can easily get him off just by sucking his dick. He's a definite connoisseur of blowjobs, even if he discovered it a little later in his life.
Preview video: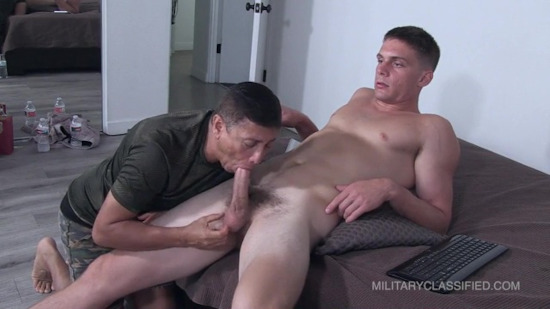 Click here to watch or download his entire video in HD quality from Military Classified.
Military Classified is a well-known straight guy site that features lots of military men (marines, navy men, Air Force servicemen and an occasional civilian guy as well). At the moment of writing this mini-review there were more than 420 videos of various guys in the content area of the site! Of course, the guys are always horny and eager to bust a nut. While for some the primary motivation is money, there are also many guys that are curious to see for themselves if it's really true that men suck cock better.