by Ben Daniels (Admin) on Apr.26, 2018, under Island Studs
Meet young Daddy Dakota! This 26-year old farm boy is already a proud father of three kids. But his thick 8-inch hard cock is still wild as ever and wants to shoot more cum whenever an opportunity presents itself!
Dakota is a muscular blue-collar farm boy who was taught by his father how to repair and use the family farm equipment, and currently works as a mechanic 60 hours per week repairing farm machines in Oregon. He tells us how he got his nicknane Dakota while he was a wrestler in his high school days.
Dakota is 5'9" tall, and weighs about 150 lbs. His 8-inch fat dick looks totally impressive when it gets hard – and it seems Dakota can hardly restrain his weapon as if it has a mind of its own!
While he's stroking his manmeat, Dakota tells us about his first sexual experiences with girls, and how he found it a little challenging putting his monster cock into their small, tight pussies.
Dakota is always very polite, reserved and soft-spoken – a real gentleman. He tells us how he realized that his cock is unusually big when he was 17. He says he was very eager to lose his virginity, but all girls were afraid of the size of his cock. Later he realized that his big dick was a blessing, and not something to be worried about!
He also flexes his powerful muscles and shows off his muscled virgin ass! You can tell Dakota enjoys stroking his huge rod. He loves walking around the garden with his cock fully erect! Dakota's cumshot was truly explosive and epic in its proportions! Check that out!
Preview video:
Click here to watch their entire movie in HD quality at Island Studs!
Island Studs is a great, new, and refreshing porn site that features hot guys from Hawaii. These bad boys have no problem with showing off their beautiful, toned body and hard cock. Watch them as they do their usual chores against the stunning backdrop of Hawaiian nature!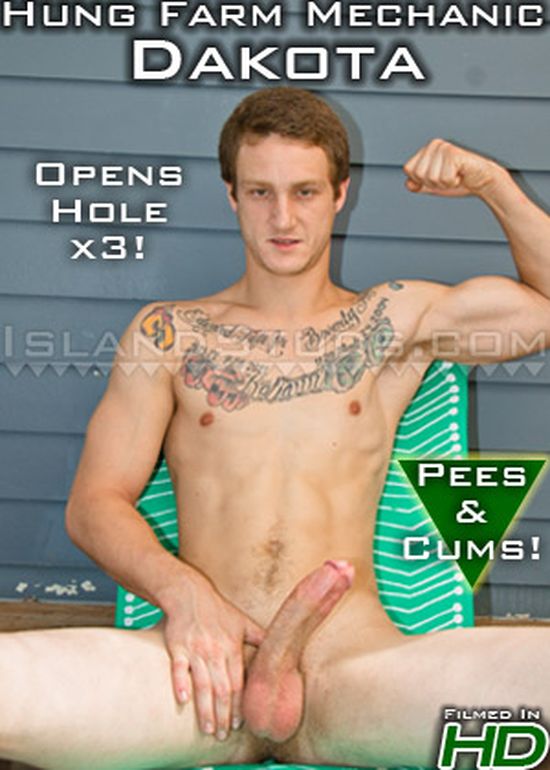 :big dicks, country boy, Dakota, explosive cumshot, father, jerking off, Massive Cumshot, muscled, straight guys, thick cock