It goes without saying that every submissive man will have extensive knowledge about servicing masculine men's feet. When a real man brutally puts his bare feet directly on your face you know who is in charge.
And two police officers, in their full uniform, have just done that with their new submissive prisoner. First they forced him to lick clean their shoes and then to service their hot sweaty feet. The poor sub has no choice but to obey and be thankful for the opportunity to be of service to these uniformed studs.
Probably not intentionally the prisoner gets a hard-on while the cops are removing his clothes for full body and cavity search. The cops are mean and start performing their own version of corporal punishment on this poor submissive man. For start, they shove their baton in his arse to see if he is smuggling anything in there.
Short preview video: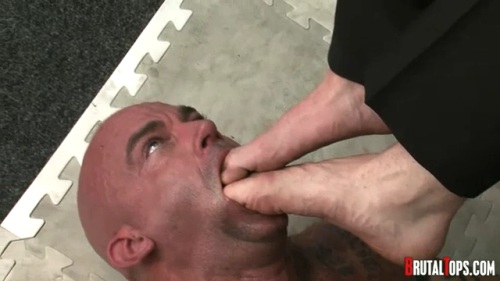 Download this and many other horny new BDSM videos at BrutalTops!
Brutal Tops is a fantastic site for lovers of the most ferocious sexually aggressive doms in the world. These dominant men love to give orders which have to be obeyed!