Blue-collar guy Dakota is one of the most popular models on Islandstuds, and it's easy to see why. This handsome, masculine mechanic sports one of the biggest and fattest cocks we've seen lately! This is Dakota's fourth exclusive appearance on the site. He came wearing his sexy blue jockey shorts, from which his 8-inch monster cock easily finds its way out!
As he plays with his hard dick, we can also enjoy the sight of his full bush of thick dick hair, and those big Donkey Balls. It doesn't take long before a constant stream of precum starts flowing out of his big mushroom head. As always, there is quite a bit of "garden work" that Dakota does while being fully naked, such as charging and tuning up a 4Runner Air Conditioner. His throbbing dick slaps against the metal truck frame while he tries to bend over and under the hood. Will that powerful cock "make a dent" in the truck frame? It sure does look amazingly stiff. Throughout the video, Dakota was pretty jovial and kept telling us various personal stories, including "playing Pocket Pool", which consisted of him massaging and playing with his big balls through his pockets while at work or shopping. You can't blame him, having such big balls can face a man with a temptation to keep playing with them!
Dakota also power washes the deck, and keeps stroking his big dick while he works wearing only thick black fishing boots. Eventually, he settles on a sofa in the sun outside to devote due attention to his swollen cock. He starts stroking his dick and playing with his balls, and this goes on for quite a while before a big geyser of warm cum explodes with several strong squirts of jizz that fly all over his shoulder and hit him on the neck, chest, belly and cock!
After this amazing cum spraying crescendo, Dakota heads over to the outdoor shower to wash off all that cum, while his dick is still throbbing hard. He washes his feet and hot bubble butt, and even gives us a great look at his hairy man crack.
Dakota is now 27 years old, he is 5'9" (175 cm) tall and weighs in at 150 lbs (68 kg). His first three videos are still hot as hell and available to view and download in the Islandstuds Members Area. His first two videos are solo jerkoffs, the first was shot in Oregon Forest where he lifted weights while being fully erect, and the other gave us a different take on Dakota where he got dirty while digging up banana trees in Hawaii – of course, his 8-incher was rock hard in that video as well. The third video is especially hot because it was Dakota's first time to jack off with another guy – with Beer Can Cock Jeffrey. It's called Football Nude #13 and belongs to the popular "Football Nude Series". So check them all out in the Island Stud's Members Area.
Preview video: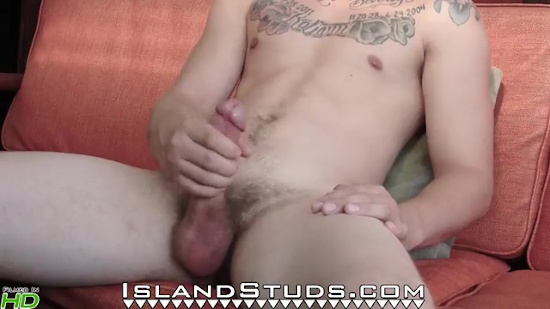 Click here to watch their entire movie in HD quality at Island Studs!
Island Studs is a great, new, and refreshing porn site that features hot guys from Hawaii. These bad boys have no problem with showing off their beautiful, toned body and hard cock. Watch them as they do their usual chores against the stunning backdrop of Hawaiian nature!