We've already seen Johnny Glyserin a few days ago when he fucked Joe Parker. Johnny is a straight Texan dude and even that required a rather big leap of faith for him. But today he'll try to bottom for Josh Long. Josh is a very cute little stud from Tennessee, and he's also got a rather big and thick dick!
Josh had heard the other day that gay porn pays much more than straight porn and he was willing to give it a try.
So both guys are only 19 years old, and both of them are straight in "regular" life. Our casting director leaves them alone to interact with each other at their own pace. Johnny takes initiative and reaches for Josh's cock and begins to suck it right away. A bit later Josh returns the favor. At first he is hesitant but later he gets into it.
Johnny wanted to get fucked as soon as possible, to "get over with it". So he takes initiative and guides his fucker along the way. He crouches over Josh's cock and guides it into his asshole. There was an initial painful bite when that big schlong entered his ass, but that didn't distract him. He said later that he wanted to take it as a man and endure whatever pain may befall him. Luckily, ass fucking is not painful after you adjust to it, as Johnny found out a bit later!
Josh fucks him and it lasts for some time, but suddenly Josh takes off his rubber and shoots a load over Johnny's masculine six pack. Johnny begins to jack off like a madman and soon enough he adds his jizz to Josh's on his stomach. Johnny was really quite vocal throughout the entire fuck scene, a real manly mofo.
Josh even uses some of Johnny's cum to lube his cock and after a few minutes Josh shoots his second load. So there you have it, two manly young studs and three cumshots!
Preview video: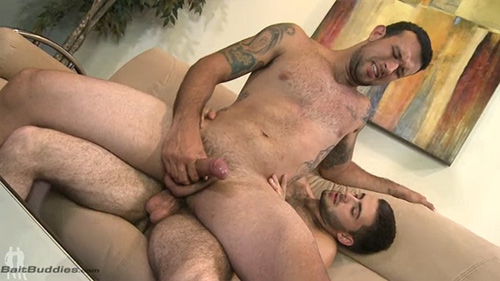 Click here to watch their complete video in HD quality at Bait Buddies!
Bait Buddies is a pretty hot straight guy site with plenty of updates and some very hot guys indeed. There is always a "bait" dude who is bi or gay, and a "straight" dude who needs to be seduced into gay sex.