by Ben Daniels (Admin) on Jun.03, 2019, under CMNM
We continue our story about the masculine builder called Oleg (you can see the first part here). Oleg is totally embarrassed while he's on all fours on the exam table. The pervy doctor realized from the get go that Oleg's injury was negligible, but being a pervy doctor that he is, he wants to take advantage of the situation and examine this hot beefy builder from head to toe!
The pervy doctor now wants to take a sperm sample from Oleg, and the dumb builder doesn't want to contradict the doctor and refuse something like that, although it is admittedly unusual. Oleg always respects authority, and the doctor appears to be very authoritative in his requests. Oleg is confused while the doctor and his assistant stroke his cock, which soon becomes rock-hard! The pervy doctor and his assistant love the thickness and mushroom head of Oleg's cock and expectantly await for the cumshot.
*****
Meanwhile, pompous and self-conceited businessman Joseph has been really put into a very unpleasant and vulnerable position! The doctor orders Joseph to take off his clothes and realizes that Joseph's soft cock is really small. Joseph is an arrogant man, though, and isn't used to other people commenting on his genitals in a derogatory way. He knows, however, that he needs the doctor's signature in order to leave his office, so he must obey the doctor's unusual demands! And then even the receptionist openly mocks his diminutive genitals – such an offensive remark for sure, but Joseph knows that he must keep it to himself!
Check out these pervy men's wanton adventures in their whole videos in HD quality at CMNM.
Clothed Male / Naked Male (CMNM) is a hot porn site where Nervous straight guys get stripped naked, groped and violated by fully clothed men.
There's nothing better than stripping straight lads completely nude, putting their bodies on display, and teaching them exactly how to submit! When they are in such a submissive position, one would be crazy not to use the opportunity and jerk them off.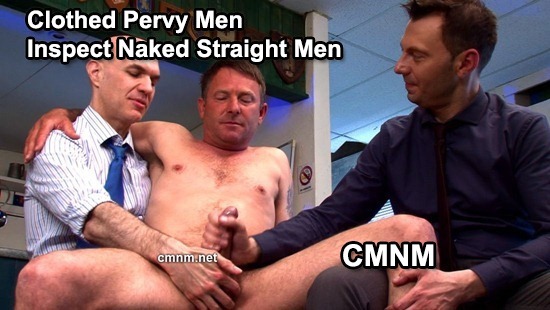 :builder Oleg, businessman Joseph, Clothed Men, examined, helping hand, naked men, pervy doctor, small soft cock, Sperm Sample, thick cock