by Ben Daniels (Admin) on May.12, 2018, under CMNM
The management of "Machine Tools" has been concerned about unimpressive productivity and sales results in the past quarter. They know all too well that not everything can be learnt from spreadsheets and reports. Sometimes a more hands-on approach is needed, and you just need to get in touch with the workers themselves to find out the reason for bad productivity.
So, Mr. Swallows takes it upon himself to examine the company's blue collar workers with his own hands. He and his assistant call up a particularly tall, masculine and strong worker, and start examining his hot, muscled body. Unsurprisingly, the workers cock soon wakes up, and dang what a fine big specimen it is!
Mr. Swallows suspects that this hunky worker has been using his own tool more than the Machine Tools that they are supposed to be using.
Check out these pervy men's wanton adventures in their whole videos in HD quality at CMNM.
Clothed Male / Naked Male (CMNM) is a hot porn site where Nervous straight guys get stripped naked, groped and violated by fully clothed men.
There's nothing better than stripping straight lads completely nude, putting their bodies on display, and teaching them exactly how to submit! When they are in such a submissive position, one would be crazy not to use the opportunity and jerk them off.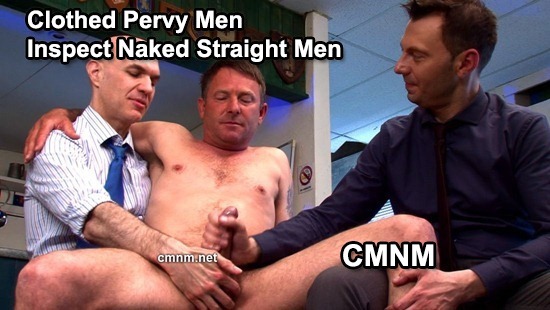 :beard, big dicks, blue-collar guys, clothed male naked male, Fingering Ass, mechanics, Mr. Swallows, muscled, spontaneous erection, tall guy