Anthony is a very confident, self-assured and cocky straight guy. Sometimes he thinks he comes across as a bit of an asshole, but the Theguysite director assured him that was not so. Nothing better than a strong, confident and masculine young man! He is 26 years old and his height is about 6'1" (185 cm), and weighs about 215 lbs (95 kg), so he's a pretty big boy! Add to that the fact that his muscles are a pretty much perfect combination of mass and definition. He has a nicely hairy chest as well.
In this video Anthony slowly takes off his clothes to reveal his perfect chest, then takes off his pants, too. He demonstrates some of his martial arts skills and does a bit of calisthenics. Throughout the video, Anthony keeps his sexy, cheeky smile on his face that reveals just how confident this sexy motherfucker really is. And he has every reason to be confident – with such a body and great attitude he definitely leaves a great impression on every true connoisseur of masculine men.
He starts stroking his nice stiff dick while standing and slowly gets to the point of no return… then stops jerking off so we can see the hands free cumshot. After that he heads to the shower and lets us take a peek at his hot masculine hairy body once again while lathering with soap and enjoying the refreshing water. Great job Anthony!
Preview video: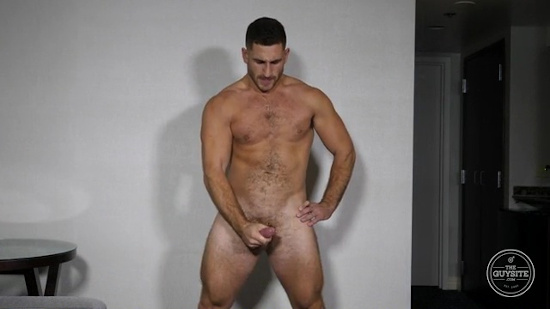 Click here to watch his entire videos in HD quality at The Guy Site!
The Guy Site is a great destination for all lovers of amateur, "next-door" type of guys. These guys are not "pretty-perfect", they look more like your next door neighbor, but just because of that they are more authentic and hence more realistic!
When you go and walk around your neighborhood you're more likely to  meet one of these hot "next-door" dudes than some perfect bodybuilder. That's not to say that there are no bodybuilders on The Guy Site, but even they are amateur types. That's why I really like The Guy Site. Certainly worth checking out.