by Ben Daniels (Admin) on Nov.14, 2013, under BreederFuckers
Aiden is an arrogant, self-confident and proud straight lad. Due to his overbearing arrogance the cruel men captured him and decided to teach him a lesson about obedience and good manners. The experience so far clearly shows that the best way to accomplish this is to bind the arrogant straight boy's arms to his ankles, thus exposing his ass for further training. Seeing this sporty lad's bare ass so blatantly exposed was enough to give hard erection to his captors – two cruel and perpetually horny Masters.
As soon as his sports shorts went down the Masters notice how smooth and white Aiden's ass is. Master Adrian decides to examine the smooth ass cheeks and Aiden's tightly closed sphincter. The boy has been misbehaving for quite some time and has repeatedly refused to bow down to the men who are more masculine than himself. Adrian and his assistant insert a tube that is connected to a bag filled with very cold water, and they start pushing the liquid up his virgin straight ass. Soon enough Aiden's ass is filled with freezing cold water and then the Masters put a buttplug in his sphincter to prevent water from coming out. Aiden's ass cheeks are shivering from intense cold water inside his rectum.
Adrian is unmoved and starts flogging Aiden's ass with a big cane to deliver proper punishment. After some time the cruel Masters remove the buttplug and the warmed-up water rushes outside from his ass.
Now the two cruel Masters take turns fucking Aiden's ass. The Masters are utterly brutal and vicious, the fucking gets more and more intense and it's safe to say that this once arrogant straight dude will no longer misbehave.
Preview video:


Check out the latest videos with arrogant straight guys being turned into obedient cocksuckers at Breeder Fuckers!
If you prefer your porn to be on the kinkier side, you should definitely check out Breeder Fuckers (formerly known as Straight Hell). Breeder Fuckers is a premium fetish site devoted to hot straight guys being tormented, humiliated and treated without mercy by big, mean & aggressive studs!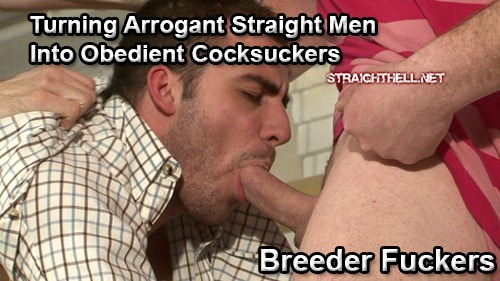 :Aiden, brutal fucking, cumshots, enema, flogging, gagged, humiliation, Master Adrian, soccer outfit, submission