by Ben Daniels (Admin) on Apr.06, 2019, under TheCastingRoom
Marcello is a hot and sexy straight man with an attractive body and hard masculine attitude. Prior to this attempt, he had never appeared before the camera in a porn film. He mistakenly believes that all the scenes in a porn movie are set up just for his own personal pleasure.
Little does he know that things in porn don't work that way! He is in for a big surprise, and the first lesson consists of him obeying the casting director's orders to fully expose his hot body for the camera, show his hard cock and spread his ass cheeks so we can see his manhole.
Marcello feels kind of awkward and slightly remorseful doing all that, and at times he feels like a total man slut for showing himself off in this way, but he is so determined to succeed as a porn star that he's ready to swallow his pride for the right cause. Marcello says he has always wanted to become a porn star and fuck lots of hot chicks. We see great potential in Marcello, but, as always, only time will tell!
Click here to watch his entire video in HD quality at The Casting Room!
The Casting Room (formerly known as First Auditions) is a great, original porn site that showcases young, cocky straight men who would like to become porn stars and make loads of cash. They think that they'll be accepted right away and be able to fuck lots of girls, but they don't know that our casting director is very strict and wants to fully inspect them during the audition. He orders them to get fully naked, show their ass, and jerk off so that we can clearly see the cumshot. Plus, we get to hear all their fetishes and what turns them on.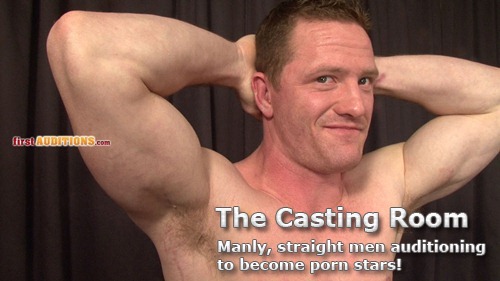 :beard, Big feet, hairy chest, hairy legs, handsome, jerking off, marcello, porn star, smile, straight men